Cooperation, learning more with less effort
In the TBL smarter classroom, students will be able to transform from teacher-centered learning to student-centered learning through communication, cooperation, discussion and sharing through teamwork and technology tools. The traditional classroom is flipped.
Classroom Situation
Classroom- Haborad TEAM Model Touchscreen
Teacher - Sign in HiTeach by screening QR Code with HiTA Smarter Assistant App for teaching and interaction in the class.
Student - One IRS Clicker for each student when having class for learning and feedback. In addition, HiLearning App is used for group cooperation
- Employs AClass ONE Learning Companion to conduct after-class review, pre-view and individualized remedial teaching after class.
Group Synchronous Tasks: Promote cooperation, sharing, and expression
HiTeach's synchronized audio, video, and data transmission technologies support the data interaction required for group synchronous interaction to enhance the quality and effectiveness of TBL team-based learning.
⦁ What is group Synchronous Task?
The group Synchronous Task is a function that combines HiTeach 5 and HiGroup. Teacher's task content (e.g. presentation, questions, or multimedia content) will be automatically displayed on the students' HiGroup, and group members can sort out and organize the results according to their discussion and submit them to HiTeach. As the students are doing their works/tasks, HiTeach's work collection window provides an overview of the students' progress and teachers can select them to do activities such as observation, comparison, mutual evaluation, praise, annotation, explanation, or sharing.
⦁ Task History Browsing
Teachers can turn on or off the submission switch for each task according to the task's need in HiTeach. For tasks that are not yet closed, students can use the task history browsing function to view their task/work history. They can also submit other work to update their work.
⦁ Multiple Task Types
When the teacher starts a synchronous task, he/she can choose the type of work to be submitted, including drawing/pictures, real-time audio recording, text, or multimedia files (PPT, Excel, video...), fully supporting learning and practice activities in synchronous lessons.

Practical tools designed for teaching
Exclusively designed for teaching
Tools, determine effectiveness and efficiency
PPT application upgrade
Writing and marking are convenient
Teachers can import PowerPoint materials directly, and the PPT pages will automatically be turned into whiteboard pages while keeping objects editable. It supports the preservation of animation such as appear, fade, pulse, zoom... and other effects. Also, built-in writing tools with various colors and thick/thin strokes can be used to mark directly on any document or web page.
Cloud platform connection is on the go
With TEAM Model Cloud – IES 5 Smarter Teaching Service, teachers can prepare lessons on the cloud by uploading teaching materials such as HTEX, PPTX, supplementary materials, videos, and web hyperlinks; when teaching in a smarter classroom, the teaching materials will be displayed in the auxiliary panel of the HiTeach for teachers to use them instantly.
Teaching aids and functions are beyond expectations
Various built-in teaching aids, such as geometric tools, scoreboard, measuring instruments, square screen curtain, spotlight, and labeling functions. They can be used according to different teaching content, and are a necessary aid to help multimedia teaching.
Create a highly interactive and lively smarter classroom
By installing HiTA 5 TEAM Model Teacher APP on smartphones, it can connect with HiTeach and transform into a remote control. It can use functions such as switching PowerPoint or HiTeach pages, pick out students wirelessly, scoreboard, timer, and more. Teachers don't have to be tied in front of the computer, making teaching vivid, free, and comprehensively flip!
Built-in picture gallery for enriched teaching
HiTeach has a rich library of built-in image materials, such as pentatonic, ball court, grid, and other backgrounds; music symbols, traffic signs, and other materials. In addition, you can also search for related images from the cloud (e.g., Wikipedia, Pixabay) by entering keywords directly and insert them right away into HiTeach to use.
Add points for promoting learning atmosphere加分表揚 帶動學習氣氛加分表揚 帶動學習氣氛
The built-in scoreboard function allows you to choose different icons to add points to groups. It is an excellent aid for TBL (team-based learning) to enhance group dynamics and increase the lively atmosphere of group discussions, student-student interactions, and teacher-student interactions to drive the learning atmosphere.
Pick-out: Care for each student
With the pick function in the classroom, the system can randomly pick students according to the name list. Therefore, students can focus in class, and teachers don't have to worry about fairness in the classroom and care for each student.
The setting that best fits TBL's design
It's so easy to learn in groups!
In TBL Smarter Classroom, teachers can send materials to the group tablet, and students can send back aggregated information to teachers after group discussions. With the aid of technology, teachers guide the group to discuss and summarize the results, spending less time lecturing, and letting students have more time for self-learning, thinking, and discussing. More pre-class activities can be arranged to guide students to establish prior knowledge and achieve the effect of flipping the classroom.
IRS+Tablet Varied interaction methods
The IRS Interactive Response System allows each student to express their opinions in real time with the clicker on the hand. The HiTeach TBL system can display information including the whole class's statistical charts and group's statistical charts based on the data clicked by the students. Teachers can carry out differentiated push functions based on this, push different contents to each group, and achieve differentiated teaching and accomplishment-oriented teaching of diverse ideas. In this environment, teachers can not only focus on the group, but also the individual students. According to the data to promote expression and sharing of diverse ideas, teachers and students can fully enjoy this lively learning atmosphere.
Cultivate the key qualities of future talents
Future talents must not only be able to think independently, but also be able to cooperate with others. In the TBL Smarter Classroom, cooperation of group members is a normal task in the classroom. Students can promote the development of high-level thinking skills in the process of interaction with peers and teachers and the stimulation of thinking. Students will be better able to further develop communication, creativity, thinking, cooperation, problem-solving, and other key qualities needed by future talents.
Classroom as society
Cultivating social skills
The TBL model has the characteristics of a social learning context, which makes the current large classroom teaching style effective. The social context means that people discuss and interact with each other, leading students to "learn through doing" and promoting the development of teamwork and socialization skills. In addition, individual feedback from students is collected through IRS / Web IRS, teachers can automatically select students to share and express with HiTeach, so that students have a fair environment to voice themselves and all need to concentrate on learning and discussion, eliminating onlookers. Teachers can also grasp the differences in students' perceptions of problems and adopt different teaching strategies.
With additional students' terminals:
Data decision-making and learning effects doubled
In addition to the application of group cooperation, if each student can also have a terminal that can interact and feedback, then there will be more teaching modes that can be applied in the TBL smarter classroom! Not only can every student have the opportunity to express themselves, but for teachers, there are more data to judge the overall performance of the class and pay attention to every student in the classroom.
The choices of student feedback terminal devices include IRS clickers, or Web IRS where every student has a tablet (or mobile phone). After adding individual feedback devices for students, the teaching scenarios that can be extended and applied will not be repeated here. Please refer to the introduction of
IRS Smarter Classroom
and
Mobile Smarter Classroom
.
The overall benefits of TBL Smarter Classroom
The TBL model has been developed for over 30 years since it was introduced in the 1980s. It is based on students' self-learning, with cooperative discussion and problem solving as the core of the classroom, allowing students to think and solve problems on their own so that they can gain the initiative in learning.
The main effects on students are as follows:
Stimulate the enthusiasm for active learning: TBL model can stimulate students' passion for problem-solving and active learning. Students' participation in problem-solving situations in class strengthens their motivation and desire to learn. Experiments and studies have proven this improves student learning outcomes.
Promote high-level thinking like analysis, evaluation, and creativity: Students will be able to promote their skills in analysis, evaluation, and creativity in the process of interacting with peers and teachers, and brainstorming, and further develop the key qualities needed for future talents, such as communication, creativity, thinking, cooperation, and problem-solving.
Cultivate the quality and skills of teamwork: Cooperative discussions allow students of different levels to learn and benefit in a social context. The social context is the interaction, communication, cooperation, discussion, and sharing between people, and the TBL model has the characteristics of it, which can make the current large classroom teaching style in schools effective.
Promote students' motivation to actively participate: Provide immediate graphical feedback to enable students to respond to problems and further strengthen students' motivation to actively participate in discussions.
Encourage students to focus and devote themselves to the learning content: Students must respond to the teacher's questions, prompt students to think about the problem, and interact through option/text/image/audio/file and other mechanisms.
Assist students with deeper conceptual understanding: Students must further explain the reason behind their answer, so this can encourage students to explore their inner thinking.
Student performance and diagnosis: After the test, students can immediately view their results, and with interactive reviews, learning is more focused and absorption is higher.
For teachers, it helps mainly in the following ways:
Able to meet the needs of both test-oriented and multi-oriented education: Teachers may be hesitant to make changes because of the pressure of exam results. The TBL model has been shown to improve students' multiple competencies and performance in assessments at the same time.
Easier to shift from teacher-centered to student-centered: In class, teachers spend less time lecturing, and students spend more time on self-study, thinking, and discussion. This provides an opportunity for teachers to shift from teacher-centered teaching to student-centered teaching.
Students of all levels can benefit: peer learning and teaching among students can benefit students of all levels.
Class activities that can be integrated with flipped classrooms: The TBL model is also very suitable for class activities in a flipped classroom because both have elements of student self-learning, classroom discussion, and student-centeredness.
Assist teachers in diagnosing learning status and provide decision-making references: The system can collect students' answers and assist teachers in finding students' learning problems from the answers immediately. It fully assists teachers in assessing the situation, effectively clarifies misconceptions, and inspires follow-up discussions.
Improve the interaction between teachers and students: Assist teachers in effectively mastering the fairness in interaction, so that all students have equal opportunities for learning and expression.
Improve the fluency of teaching: The system encourages students to focus on the key points of learning, saving teaching time, and making classroom context interesting without losing control.
Convenient for teachers to use: The system is simple to operate, so that teachers can focus on teaching, and teaching thoughts are not easily interfered by technological tools.
Increase the diversity of teaching and focus on every child: Teachers can design questions to allow students to feedback and interact through option/text/image/audio/file and other mechanisms to increase the diversity and richness of teaching. Every student must respond, achieving paying attention to each child.
Reference application scenario
The Vision and Practice of TBL TMSC
Through this video, you will be able to follow the instructions and demonstrations of Dr. Liang, a TBL learning expert, to understand the important key links in the TBL smarter classroom teaching method.
►Open video link
TBL smarter classroom function teaching demonstration
This video introduces several important team-based learning functions in the TBL smarter classroom. You can use these key functions to absorbs HiTeach TBL from the film, including data interaction with the group tablet computer, and data statistics of the IRS interactive response system application.
►Open video link
A TBL lesson in Bulgarian Kindergarten
In this video, a math lesson with the theme "Easter Holiday" was taught by Ms. Nataliya Parvanova in Kindergarten 67 in Bulgaria. She used fun activities to let students learn about grouping, counting, and categorizing with colors via individual practice and team collaboration.
►Open video link
論及互動,引導學生「做中學」,更促進團隊合作能力養成、培養社會化能力。
TBL Model Lesson: Elementary School Math
A TBL activity in a TEAM Model Smarter Classroom by Ms. Lin of Shuangyuan Elementary School, Taipei.
►Open video link
Successful Case
Da You Junior High School
Since 2017, the whole school has introduced the "TEAM Model TBL" smarter classroom. The principal put forward the "Climbing Plan" for systematic smarter classroom training, and used the TEAM Model cloud service to promote teachers' resource sharing and joint lesson preparation. Based on the TBL teamwork learning model and combined with games and task-based learning, Da You Junior High School has developed unique smarter classrooms, which has successfully aroused students' interest in learning and significantly improved the overall academic performance of the school. Among them, the innovative teaching design of comprehensive subjects, such as geography, biology, and scouting, has attracted the media to cover it for many times. In 2017, it was selected as "Representative School for Smarter Education of the Year" by Taiwan Technology Leadership and Instructional Technology Development Association.
►More introduction of Da You School
Where can I refer to actual teaching cases?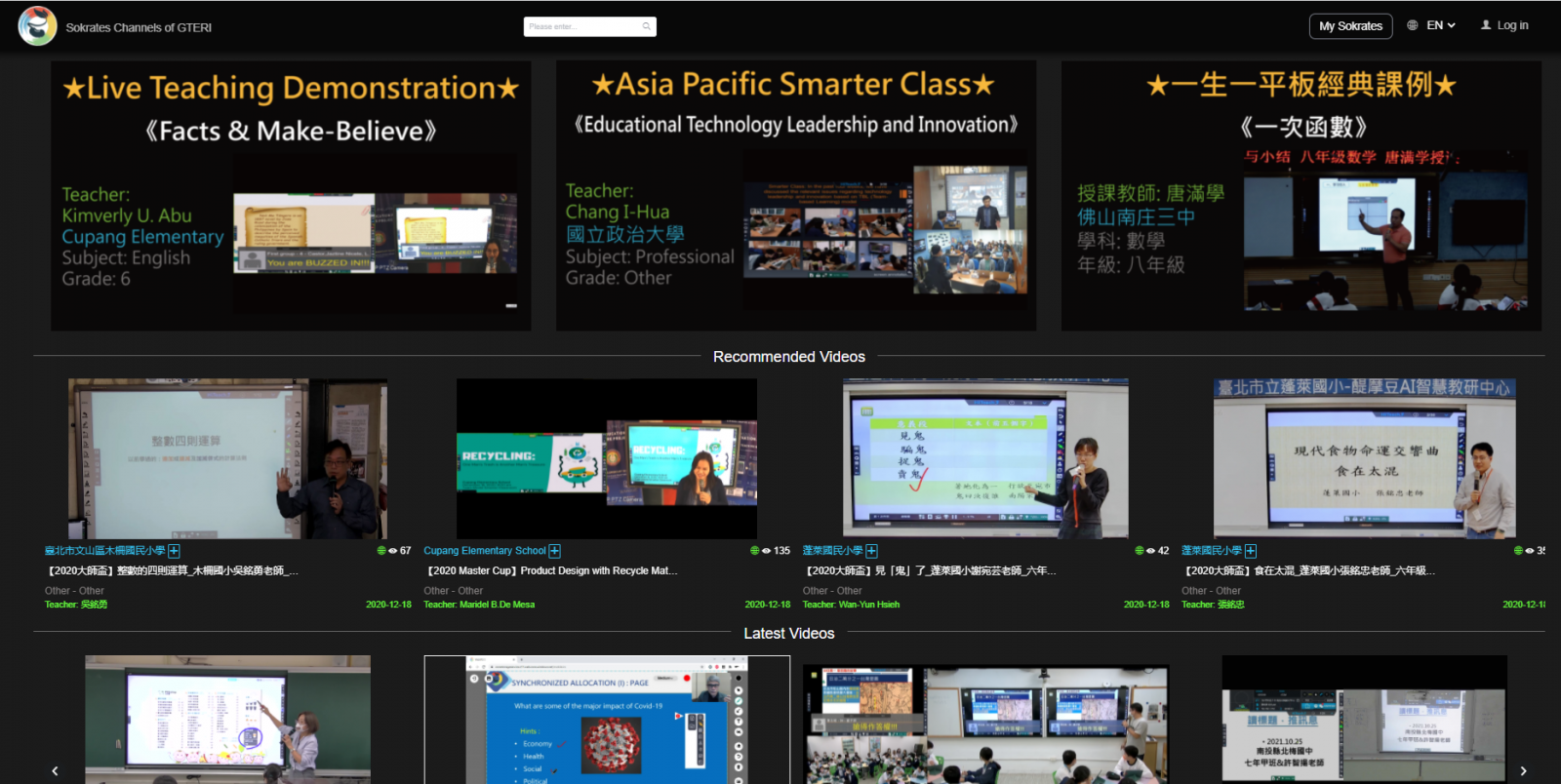 Sokrates platform has many lessons ex.
HiTeach can play a lot of supporting roles in the classroom. With student feedback devices and group devices for group cooperative learning, it can be combined into a diversified smart classroom solution. As for how to apply it to your own teaching? It may be the most effective way to see the best and to refer to the application methods of other teachers. The Sokrates platform gathers teaching examples that are enthusiastically open and shared by teachers from all over the world, including videos, application feature marks, and even teaching plans, covering various subjects and different academic systems. You can filter the movie lesson examples that suit you for your reference, and then integrate it into your own innovative teaching, and you can definitely increase your digital application skills in the shortest period of time!
Go to watch
Purchase & Set Up Information
Procurement Scenario Description:
Example 1:
To set up
a class that is divided into 5 groups
and each group's device (touchscreen, tablet, etc.) has HiGroup access that can interact with HiTeach, you need to purchase
1
set of HiTeach 5 professional version authorization and
5
HiGroup connection authorization.
**Based on the authorized group connection number, HiTeach serial number license or account license will be provided (please refer to:
The difference between HiTeach 5 serial number license and account license, and how to check the content of license?
)
| | | |
| --- | --- | --- |
| Item Name | Quantity | MSRP |
| HiTeach TBL Smarter Classroom Pack (5 Groups) (1Y) | 1 | USD$159 |
| HiTeach TBL Smarter Classroom Pack (5 Groups) | 1 | USD$1,110 |
*After purchasing, the following items can be used for more applications for free: HiTA Teacher app, IES Smarter Teaching Service (Personal), and AClass ONE Learning Companion (For IES Personal courses).
Example 2:
To set up
a class with 30 students
and
1. The students are
divided into 5 groups
and each group's device (touchscreen, tablet, etc.) has HiGroup access that can interact with HiTeach
and
2. Each student has an IRS response device (model RF-09A) that can interact with HiTeach
You need to purchase
1
set of HiTeach 5 professional version authorization,
5
HiGroup connection authorization, and a set of
30
IRS keypads/clickers (including connection authorization with HiTeach)
**Based on the authorized student and group connection number, HiTeach serial number license or account license will be provided (please refer to: The difference between HiTeach 5 serial number license and account license, and how to check the content of license?)
Item Name
Quantity
MSRP
HiTeach 5 TBL Smarter Classroom 30 Clients Pack (5 Groups)
(With IRS 30 Clients Pack)
1
USD$2,940
*After purchasing, the following items can be used for more applications for free: HiTA Teacher app, IES Smarter Teaching Service (Personal), and AClass ONE Learning Companion (For IES Personal courses).
Overall Environment of HiTeach TBL Smarter Classroom
For Teacher
• Install on computer: HiTeach 5 (pro. authorization)
• Install on smartphone: HiTA 5 TEAM Model Teacher APP
• Cloud Service: IES 5 Smarter Teaching Service
For Students (Group)
• Students' group tablets or other touch devices: HiGroup

Purchased according to the number of groups
For Students (Individual)
• For each student, according to budget, you can choose IRS clickers :
RF-09A (The standard purchase quantity is 20/30/40/50/60)

• AClass ONE Learning Companion (For students to use before and after class)
• Do online learning, homework, assessments, surveys, and polls.
Wireless network environment
The classroom needs to be equipped with an environment that can be connected to the Internet, usually with a wireless AP that is sufficient for all students to use mobile devices to connect to the Internet.
Touch Device
It is recommended to install a touch device (such as Haboard IWB (101 inches)) for teachers to operate intuitively, and use HiTeach 5's powerful IWB tools to operate/write/mark with their hands.