Vivid classroom interactions spanning time & space
Create a remote blended learning smarter classroom
The post-epidemic era has arrived, and blended / hybrid learning may become the new normal teaching mode. Based on the flourishing development of video conferencing, coupled with Smarter Classroom's powerful real-time feedback and statistical data interaction, it can break the limitation of time and space, allowing students on-site, online, or even in multiple locations to actually participate in classroom interaction, and teachers can make precise teaching based on data decisions during the teaching process, so that interactive smarter teaching that span through time and space can begin immediately!
Classroom Setting
Teacher side use HiTecah, student side using Web IRS, and join together with video conferencing system (such as zoom, Google Meet, Cisco WebEx)
Features
Synchronous offsite multiparty links
In addition to direct student video participation, several classrooms can also be directly connected to each other Achieve the online + offline blended learning classroom with one teacher and hundreds of students.
Synchronous teaching overcoming restrictions of time and distance
Teachers can use the Push function to send pictures to students, and students can use their devices to Submit their work to the teacher; according to the student works uploaded, the teacher can select the works to observe, share and discuss, just like they are in the same classroom.
Synchronous data: letting teachers see students' thinking
Teachers can take advantage of the IRS system to receive immediate feedback from students in different places, allowing them to immediately perform data analysis and see students' thinking.
Choose the right one and you'll get twice the result
Break the limitation of time and space
It breaks the distance limitation and supports feedback from up to hundreds of students at the same time, allowing teachers to conduct exciting smarter lessons (whether at home or in the classroom).
No matter how far away, teaching is still wonderful
After the teacher connects the classrooms of the participating joined sites, the teachers can use various functions of the smarter classroom, especially the teacher-student interaction function. For example, teachers can let students use Web IRS to answer questions. Teachers can make real-time statistics based on the results of feedback, adjust the teaching pace with data decisions, or use the SMART Pick-out function and explicitly select the students in a specific group to interact. In addition, teachers can push the page to the students, students can use the Submit or Fast Deliver function to send information to the teacher for sharing and discussion, just like the high interaction in the same classroom.
Multiple application scenarios to meet various needs
Whether it is supporting rural education, inter-school exchange activities, or even cross-country teaching and communication activities, DTMSC can help teachers to achieve a highly interactive classroom with audio/video and data synchronization. Students have more stimulation and more diverse community interactions, which is a very good resource-sharing model.
論及互動,引導學生「做中學」,更促進團隊合作能力養成、培養社會化能力。
Successful Case
The DTMSC Alliance Program
This project created a platform for sharing superior educational resources among schools in Taipei, Hong Kong, Chengdu, and Xiamen, and also established a three-in-one professional growth model for teachers encompassing "joint preparation (before class), joint study (during class), and joint research (after class)".
Not only letting students obtain new stimulation and knowledge in class, but the project has also prompted the schools to send expert smarter teachers to engage in mutual discussion and improvement, which has effectively promoting professional growth among teachers.
More than 1,000 viewers watching online!
Philippines Teacher Professional Development Achievement Showcase!
With the students unable to go to school, teachers of Cupang Elementary School and Bayorbor National High School (two of the first schools in the Philippines to use the HiTeach Smarter Teaching System) have broken the traditional online teaching model, and make online teaching more interactive and data-driven.
Application case video
DTMSC application case video in Thailand
Through this teaching demonstration video, you will be able to see the practical application of DTMSC teaching across time, space, and classes and the interactive application of all students' real-time feedback. The remote interaction between teachers and students can be very different!
Open this video
Real feedback from teachers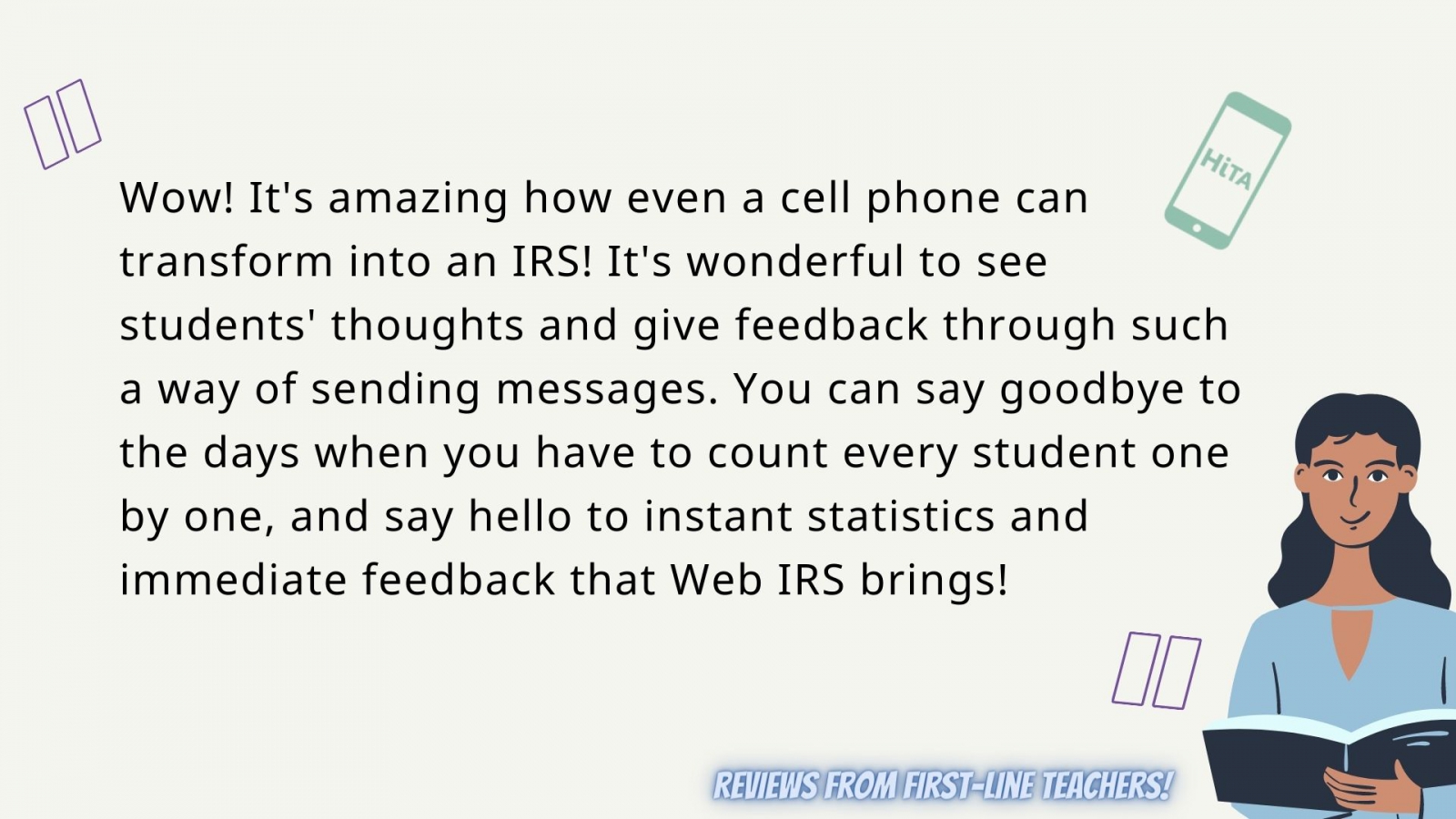 Purchase Information
Distance Blended Learning Smarter Classroom
Touch-control terminal
Haboard 5 Team-based Learning IWB
Smarter Classroom System
Teacher side: HiTeach Mobile Software
Student side: Web IRS
Video-conferencing system
Use of Zoom, Cisco WebEx, Google Meet, or other video conference services.
Camera
IP camera ×2 (each classroom)
Non-directional microphone
Recommended quantity: 2 (each classroom)
Display
65" or above LCD (so teachers and students at each location can see each other)
Other equipment
LCD equipment (used as a set with codec device), audio mixer, amplifier, speakers, wires and cables, and installation