Instant Feedback and Statistics
Seeing Each Student's Thinking
In IRS Smarter Classroom, students no longer need to answer questions by raising their hands, but by pressing the IRS keypad/clicker to respond to teacher questions initiated from HiTeach 5 (pro. authorization), such as Pop Quiz and Buzz-in. Moreover, statistical data can be generated in real-time so that the teachers can view the learning status of students, thereby improving teaching efficiency.
Classroom Setting
Teacher: Install HiTeach 5 (pro. authorization) on the computer and HiTA 5 TEAM Model Teacher App on the teacher's smartphone to integrate HiTeach wirelessly for teaching and teacher-student interaction.
Students:
• In class, each student has an IRS feedback clicker/keypad to answer the teacher's questions.
• After class, students use AClass ONE Learning Companion for after-class review, pre-class preview, and remedial learning.
Classroom: It is recommended to install a touch device (such as Haboard interactive whiteboard) for teachers to operate intuitively, and use HiTeach 5's powerful IWB tools to operate/write/mark with their hands.
What is IRS ?
IRS is the abbreviation of Interactive Response System, which allows all students in the class to give instant feedback. Teachers can use this to collect feedback information and make real-time statistical analyses. Therefore, some people call this system Classroom Response System (CRS).

HABOOK's TEAM Model system developed the first generation of remote control feedback devices more than 20 years ago. At present, with the launch of TEAM Model 5 series, the remote control model used for students is RF-09A.
How the IRS system works?
IRS consists of two parts: hardware and software. The hardware part mainly includes a set of student keypads/clickers and a signal receiver, and is paired with the existing computers and large displays in the classroom (a projector, interactive whiteboard, or touchscreen). The software part is HiTeach 5. Teachers can ask questions at any time and guide students to press the button of the keypads/clickers to choose an answer. The system can collect all students' answers simultaneously and present the answer results in a visual chart or display all the answers at the same time.
Why do I need to build an IRS Smarter Classroom?
Can implementing the IRS system enhance the effectiveness of learning? Just look at the progress of students' grades!
According to many international research papers and reports on teaching achievements,
it is proved that IRS can significantly improve students' learning achievement!
For example, West Virginia University's report on the use of the IRS system in classrooms. In addition, with the trend of global competency-oriented teaching, teacher-student interaction mechanisms, students' instant feedback data, and expressions and sharing are all important aspects. If students have the simplest IRS devices in their hands, then competency-oriented classrooms will be a common sight on campus.
Simple ⦁ Durable ⦁ Effective
The IRS Smarter Classroom allows students to use keypads/clickers to interact and give feedback, which can
save the investment of tablets, laptops
, etc. on the student side! In addition, the design of the remote control is
sturdy and durable
, so there is no need to worry about students' damage, and the function is simple. The new version of IRS, RF-09A, added an LCD panel display, allowing students to see their answering situation while using it, and it also added the function of answering multiple answers questions. It is more intuitive and easier to use.
360-degree reception without dead angle
Using RF wireless transmission technology, with a dedicated receiver, the keypads/clickers for students and teachers can be used wirelessly at any position and angle within a communication distance of 20 meters.
500,000+ click life
The new press-resistant material design, with its quality certified, and the press life tested up to 100,000~500,000 presses. It is stronger and more durable.
Brand new design
With the addition of the LCD panel display, students can see their own answering situation and switch between the previous/next question.
Multi-choice answering function
Both single answer and multiple answers questions can be used. Students can respond and answer better to a variety of classroom situations.
Students are focused and teachers track learning status precisely
Can you believe it? You can ask student questions in class at any time without preparation in advance, and keep track of student learning status and statistics in real-time! With the new synchronous interaction features of
HiTeach 5
, you can perform synchronous feedback, real-time statistics, data utilization, and other high-performance synchronous interaction modes anytime to fully track the learning status of each student.
The synchronous interaction function of HiTeach 5 includes
single answer question, multiple answers question, true-false question, and Buzz-in
. These are the teaching questioning strategies that teachers are familiar with in the classroom. By pressing the function button, students can answer with IRS, and HiTeach will automatically collect data from the entire class. When the teachers press the statistic buttons, various feedback data and charts are presented, which can then be used for further discussion or follow-up questions.
1. Single Answer Question
2. Multiple Answers Question
3. True-False Question
4. Buzz-in Interaction
Effective analysis ⦁ Double the effect
Tests are great ways to summarize the learning results and to know the strengths and weaknesses. Before, paper tests are used mainly, but the process was complicated and time-consuming. Now, after teachers design test questions on IES Cloud, they can use them with HiTeach's SelfPace Test mode function, and students can answer through IRS. After the test, visual grade results will be displayed immediately, allowing teachers to do interactive reviews in real-time. Also, these data will be simultaneously uploaded to the cloud, which is extremely helpful for teachers to track student learning situations and for students to do remedial learning on their own.
Synchronous testing and quick automatic correction
When starting SelfPace Test mode, teachers will select an exam file and the whole class can answer the questions synchronously, or each student can be given a paper copy of the test papers and control their own answering progress. During the process of answering, the progress of each student's answer will be displayed on the HiTeach. When the teacher ends the test,
HiTeach will
automatically correct and calculate the score of each question
(including single answer, multiple answers, and true-false questions) and the total scores, and immediately display the correct rate of each question, the student total score, the grade analysis graph, and the test data for each question required for interactive review.
Interactive Review: Enhanced absorption
After the test is finished, the test results are immediately displayed, including the correct percentage, distribution charts, and score tables, as well as an interactive page for each question, which includes the test question, answering data, pie charts, and bar charts. Teachers can browse through the statistics and test difficulty to select the questions needed to be reviewed and do interactive review by using functions like SMART Pick-out, Flip Cards, or do differentiated teaching by sending different materials to students based on their learning status. This is a very efficient way to review tests.
Learning status analysis ⦁ Teaching students according to their aptitude
HiTeach will automatically upload all test data to the Team Model Cloud after the tests are completed, and the assessment data support the
PLAYTOL Dynamic Assessment Analytics
(an optional feature of the Team Model Cloud), allowing teachers to access test question analysis, score analysis, diagnostic analysis, and remediation planning. Teachers can fully grasp the data and charts that are useful for understanding learning status analysis by each subject, all subjects, school year, and each test.

Practical tools designed for teaching
Exclusively designed for teaching
Tools, determine effectiveness and efficiency
PPT application upgrade
Writing and marking are convenient
Teachers can import PowerPoint materials directly, and the PPT pages will automatically be turned into whiteboard pages while keeping objects editable. It supports the preservation of animation such as appear, fade, pulse, zoom... and other effects. Also, built-in writing tools with various colors and thick/thin strokes can be used to mark directly on any document or web page.
Cloud platform connection is on the go
With TEAM Model Cloud – IES 5 Smarter Teaching Service, teachers can prepare lessons on the cloud by uploading teaching materials such as HTEX, PPTX, supplementary materials, videos, and web hyperlinks; when teaching in a smarter classroom, the teaching materials will be displayed in the auxiliary panel of the HiTeach for teachers to use them instantly.
Teaching aids and functions are beyond expectations
Various built-in teaching aids, such as geometric tools, scoreboard, measuring instruments, square screen curtain, spotlight, and labeling functions. They can be used according to different teaching content, and are a necessary aid to help multimedia teaching.
Create a highly interactive and lively smarter classroom
By installing HiTA 5 TEAM Model Teacher APP on smartphones, it can connect with HiTeach and transform into a remote control. It can use functions such as switching PowerPoint or HiTeach pages, pick out students wirelessly, scoreboard, timer, and more. Teachers don't have to be tied in front of the computer, making teaching vivid, free, and comprehensively flip!
Built-in picture gallery for enriched teaching
HiTeach has a rich library of built-in image materials, such as pentatonic, ball court, grid, and other backgrounds; music symbols, traffic signs, and other materials. In addition, you can also search for related images from the cloud (e.g., Wikipedia, Pixabay) by entering keywords directly and insert them right away into HiTeach to use.
Add points for promoting learning atmosphere加分表揚 帶動學習氣氛加分表揚 帶動學習氣氛
The built-in scoreboard function allows you to choose different icons to add points to groups. It is an excellent aid for TBL (team-based learning) to enhance group dynamics and increase the lively atmosphere of group discussions, student-student interactions, and teacher-student interactions to drive the learning atmosphere.
Pick-out: Care for each student
With the pick function in the classroom, the system can randomly pick students according to the name list. Therefore, students can focus in class, and teachers don't have to worry about fairness in the classroom and care for each student.
For more teaching features please refer to HiTeach 5 (pro. authorization)

The overall benefits of IRS Smarter Classroom
Research on the application of the IRS system in classrooms has found that it helps students stay focused and motivate active learning. Many studies have shown that in classroom teaching activities, IRS has extremely positive help and effectiveness for teacher teaching and student learning.
The main effects on students are as follows:
Promote students' motivation to actively participate: Provide immediate graphical feedback to enable students to respond to problems and further strengthen students' motivation to actively participate in discussions.
Encourage students to focus and devote themselves to the learning content: Students must choose an answer to the teacher's questions, prompting students to think about the problem.
Assist students with deeper conceptual understanding: Students must further explain the reason behind their answer, so this can encourage students to explore their inner thinking.
For teachers, it helps mainly in the following ways:
Assist teachers in diagnosing learning status and provide decision-making references: The system can collect students' answers and assist teachers in finding students' learning problems from the answers immediately. It fully assists teachers in assessing the situation, effectively clarifies misconceptions, and inspires follow-up discussions
Improve the interaction mode between teachers and students: Assist teachers in effectively mastering the fairness in interaction, so that all students have equal opportunities for learning and expression.
Improve the fluency of teaching: The system encourages students to focus on the key points of learning, saving teaching time, and making classroom context interesting without losing control.
Convenient for teachers to use: The system is simple to operate, so that teachers can focus on teaching, and teaching thoughts are not easily interfered by technological tools.
Students think fully and grades improve by 5-10 points
West Virginia University in the United States used IRS to conduct a two-year teaching research in the courses of the medical school, and found that IRS can significantly improve students' academic performance (about
an average improvement of 5-10 points
). An experimental study on elementary science teaching at the National Central University in Taiwan also showed that the average performance of students in the IRS class was also better than that of the control group (about 7 points). It was also found that the standard deviation of the experimental group's performance was significantly smaller than that of the control group's students. (It means that there are more students in the control group with low learning effectiveness).
Successful Case
Guang Ming Junior High School, Taoyuan City, Taiwan
Since Principal He Xinzhang took office in 2015, he has continued to promote smart classrooms, using TEAM Model Smarter Classroom to reduce the rate of 5C students in the test results of entering higher schools, and 5A students continue to rise, quickly becoming one of the smart school demonstration sites in Taoyuan City. It is the only school in Taoyuan City that "each class has air-conditioning, each class has a drinking fountain, and each class is a smart classroom".
Where can I refer to actual teaching cases?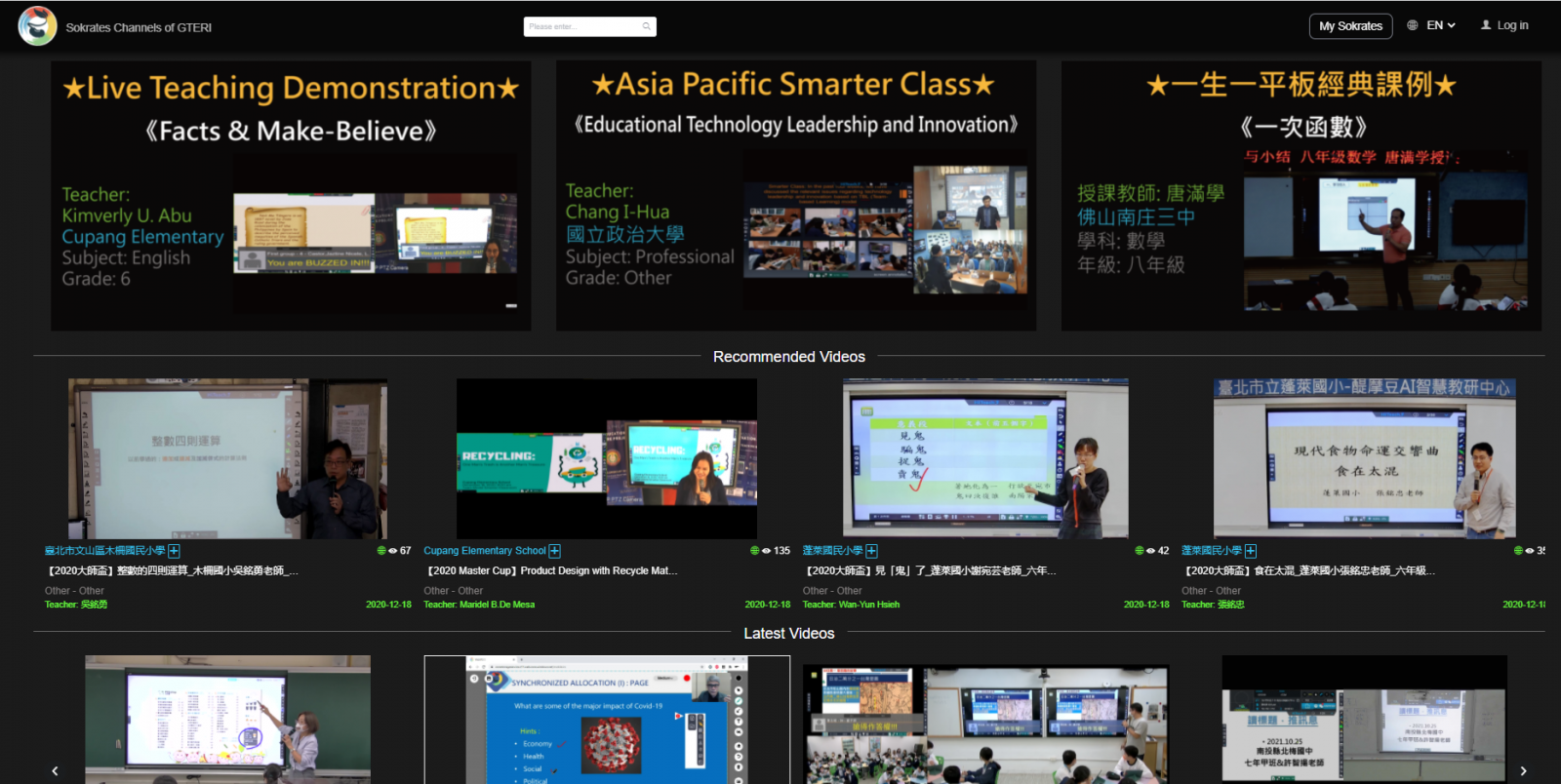 Sokrates platform has many lessons ex.
HiTeach can play a lot of supporting roles in the classroom. With student feedback devices and group devices for group cooperative learning, it can be combined into a diversified smart classroom solution. As for how to apply it to your own teaching? It may be the most effective way to see the best and to refer to the application methods of other teachers. The Sokrates platform gathers teaching examples that are enthusiastically open and shared by teachers from all over the world, including videos, application feature marks, and even teaching plans, covering various subjects and different academic systems. You can filter the movie lesson examples that suit you for your reference, and then integrate it into your own innovative teaching, and you can definitely increase your digital application skills in the shortest period of time!
Go to watch
Purchase & Set Up Information
Procurement Scenario Description:
Example: To set up
a class with 30 students
and each student has an IRS response device (model RF-09A) that can interact with HiTeach, you need to purchase
1
set of HiTeach 5 professional version authorization and a set of
30
IRS keypads/clickers (including connection authorization with HiTeach).
**Based on the authorized student connection number, HiTeach serial number license or account license will be provided (please refer to:
The difference between HiTeach 5 serial number license and account license, and how to check the content of license?
)
| | | |
| --- | --- | --- |
| Item Name | Quantity | MSRP |
| IRS Smarter Classroom 30 Clients Pack | 1 | USD$2,610 |
*After purchasing, the following items can be used for more applications for free: HiTA Teacher app, IES Smarter Teaching Service (Personal), and AClass ONE Learning Companion (For IES Personal courses).
Overall Environment of HiTeach IRS Smarter Classroom