Mobile device (tablet or smartphone) is the best tool for interaction
On-site/Online/Online+On-site hybrid classrooms are all available
In the Mobile Smarter Classroom, teachers use HiTeach 5's interactive teaching functions, while students can use various mobile devices (such as smartphones, tablets, and PCs) to open Web IRS and perform the tasks assigned by the teacher, allowing teacher-student interaction while breaking the limitation of distance.

With the increasing popularity of mobile devices, from the early Student-Tablet or e-student-backpack application to the recent "one student with one tablet" policy promoted by many governments are all the development applications of this trend of mobile device popularity. Each student is equipped with a mobile device, and teachers can attend to each student through data interaction. In this way, teachers can provide suitable teaching materials for each student, cultivate independent thinking and inquiry skills, and achieve a one-to-one (one-to-one computing, 1:1) learning effect. It is a smarter classroom that can best teach students according to their aptitude.
How Mobile Smarter Classroom Works?
The Mobile Smarter Classroom is mainly composed of HiTeach 5 on the teacher's computer and Web IRS 5 on the student's mobile device. The classroom needs to be equipped with an environment that can be connected to the Internet externally, usually with a wireless AP that is sufficient to give all mobile devices external connectivity so that teachers and students can connect and interact with each other. A whiteboard touch device (interactive whiteboard or LCD TV touchscreen) is recommended to show HiTeach 5's powerful whiteboard tools.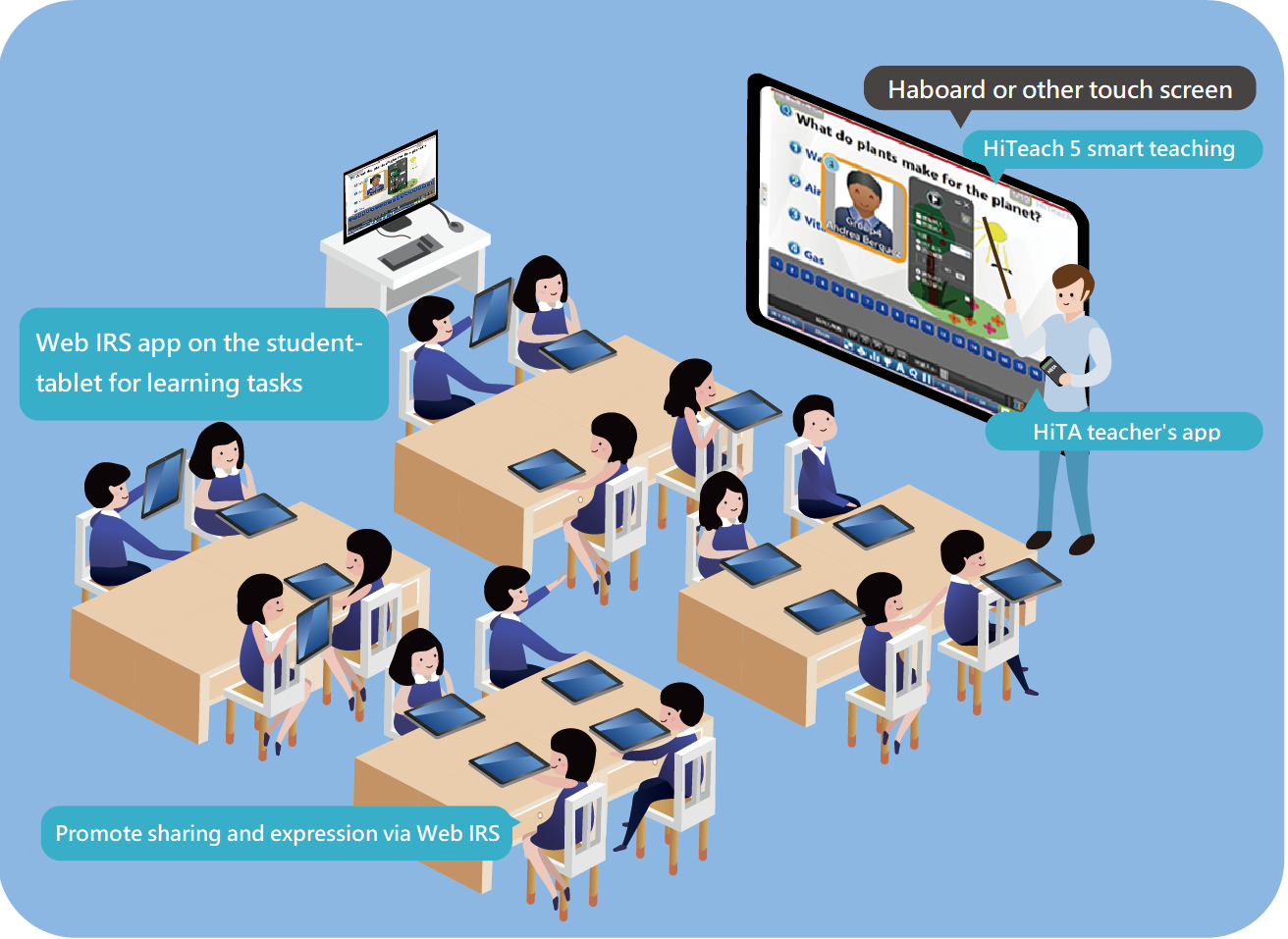 Classroom Setting
Teacher: Install HiTeach 5 (pro. authorization) on the computer and HiTA 5 TEAM Model Teacher App on the teacher's smartphone to integrate HiTeach wirelessly for teaching and teacher-student interaction.
Students:
• In class, students can use Web IRS 5 on a variety of mobile devices (smartphones, tablets, PCs) to learn, do interaction, and give feedback/response.
• After class, students use AClass ONE Learning Companion for after-class review, pre-class preview, and remedial learning.
Classroom: It is recommended to install a touch device (such as Haboard interactive whiteboard) for teachers to operate intuitively, and use HiTeach 5's powerful IWB tools to operate/write/mark with their hands.
Wireless network environment: Set an environment that can be connected to the Internet externally, usually with a wireless AP that is sufficient to give all mobile devices external connectivity so that teachers and students can connect and interact with each other.
Why TEAM Model is the 1st choice in Mobile Learning?
The founders of TEAM Model have been researching one-to-one theory and teaching applications for more than 20 years, from academic publications, product development to global marketing. In the field of mobile learning research, TEAM Model is also
the first team in the world to propose e-student-backpack(student-tablet) research, terminology and paper publication.
Over the years, TEAM Model has continued to revise and update products from theory and teaching practice, therefore, the Mobile Smarter Classroom of TEAM Model 5 is the best application product solution that meets real teaching need for teachers and educators around the globe.
Over 20 years of research and development experience
Based on theoretical and
practical teaching
applications
Tablets or other mobile devices can never produce benefits just by putting them in the classroom, they need to be combined with appropriate teaching models and support systems before they can become a catalyst for improving the effectiveness of teaching and learning. Many teachers find that without the assistance of the teaching system, these tools often become mere tools for surfing the Internet and reading, and do not integrate into the teaching process and strategies, which is a common difficulty faced by teachers that promote mobile learning.

The Mobile Smarter Classroom developed for many years is to solve the difficulties faced by these teachers, so that the teaching support system becomes the medium of interaction between teachers and students, and the mobile device becomes the learning companion and the private tutor of students.
Web IRS 5
Student Real-Time Interactive Response System
Web IRS is a student response system developed specifically for use on mobile devices. Students do not need to install any software, and they can use smartphones/tablets/computers, as long as there is a browser, to interact with teachers and give feedback without distance constraints. It achieves exclusive features of smarter classrooms: synchronous content, synchronous interaction, synchronous task, and synchronous test, allowing every student to express their opinions and ideas in real-time.
Students don't need to download any app! They can use computers, tablets, or smartphones (Both iOS or Android are available), and enter irs5.cc in browsers or scan QR code to use Web IRS. They can instantly interact with the teacher, answer IRS questions, and send pictures/audios/files.
Ways for students to connect to the smarter classroom using Web IRS:
Method 1. Enter the URL
irs5.cc
in your browser, then enter the classroom code provided by HiTeach
Method 2. Scan QR code with smartphones or tablets

The display interface of a tablet or laptop is different from that of a mobile phone. The display interface of a tablet computer directly includes the process History Area, which is more intuitive. The screen size of a mobile phone is limited, and the screen needs to be switched.
Message/Graphic Interaction
Two-way Communication
The teacher initiates various interactive functions through HiTeach, and then the students enter the website address or scan the QR code to log in through the browser (Web IRS), and then they can give feedback, send pictures, text, etc. immediately. You can participate in the classroom without installing any app at all, and every student can express their opinions and ideas in real time.
Send Pictures Anytime and Anywhere
Both teachers and students can send pictures/pages to each other anytime/anywhere, making it easier and more convenient to teach. Also, HiTeach can quickly organize pictures and messages without the need to use other software.
A wide variety of test question types are supported
The administration and correction of assessments have always been a heavy workload for teachers, and with the online distance learning due to the pandemic, assessments have become an even greater challenge for frontline teachers.
HiTeach 5's Smarter Classroom Assessment effectively integrates multiple assessment modes and enables simultaneous use of both online teaching and offline classrooms. Its automatic correction function saves teachers a lot of time and allows them to improve their work efficiency effectively.
Mobile Smarter Classroom provides four synchronous teaching modules. These four refined smarter classroom tools, including Allocation, Activity, Assignment, and Assessment. Our many years of research in AI Sokrates data analysis proves that with the appropriate combination of these tools, teachers will be able to achieve highly engaging and inspiring teaching effect.
Synchronous Interaction (Synchronized Activity):
Students are focused and teachers track learning status precisely
Can you believe it? You can ask student questions in class at any time without preparation in advance, and keep track of student learning status and statistics in real-time! With the new synchronous interaction features of HiTeach 5, you can perform synchronous feedback, real-time statistics, data utilization, and other high-performance synchronous interaction modes anytime and anywhere to fully track the learning status of each student online/on-site.

The synchronous interaction function that can be used by combining HiTeach 5 and Web IRS 5 is powerful, including single answer question, multiple answers question, true-false question, cloze question, and Buzz-in. These are the teaching questioning strategies that teachers are familiar with in the classroom. By pressing the function button, the content teachers prepared (e.g. presentation, questions, or multimedia content) will be automatically displayed on the student's Web IRS, and students can answer with Web IRS. HiTeach will automatically collect data from the entire class and teachers can check the status of each student's answer. When the teachers press the statistic buttons, various feedback data and charts are presented, which can then be used for further discussion or follow-up questions.
1. Single Answer Question
2. Multiple Answers Question
3. True-False Question
4. Cloze Question

5. Buzz-in Interaction
Multi-interaction type
In the Mobile Smarter Classroom, synchronous audio, video, and data transmission technologies can be used to support the data interaction required in the classroom to enhance the quality and performance of the classroom. In addition, during the pandemic, it is also very suitable for synchronous lessons (also known as online synchronous learning, which are teaching activities in a video conferencing environment), which have a wide range of applications.
⦁ What is Synchronous Task?
Synchronous Task is a new function that combines HiTeach 5 and Web IRS 5. Teacher's task content (e.g. presentation, questions, or multimedia content) will be automatically displayed on the student's Web IRS. As the students are doing their works/tasks, HiTeach's work collection window provides an overview of each group or student's progress, sorted by chronological order, seat number, or grouping. Teachers can select them to do activities such as observation, comparison, mutual evaluation, praise, annotation, explanation, or sharing.
⦁ Task History Browsing
Teachers can turn on or off the submission switch for each task according to the task's need in HiTeach. For tasks that are not yet closed, students can use the task history browsing function to view their task/work history. They can also submit other work to update their work.
⦁ Multiple Task Types
When the teacher starts a synchronous task, he/she can choose the type of work to be submitted, including drawing/pictures, real-time audio recording, text, or multimedia files (PPT, Excel, video...), fully supporting learning and practice activities in synchronous lessons.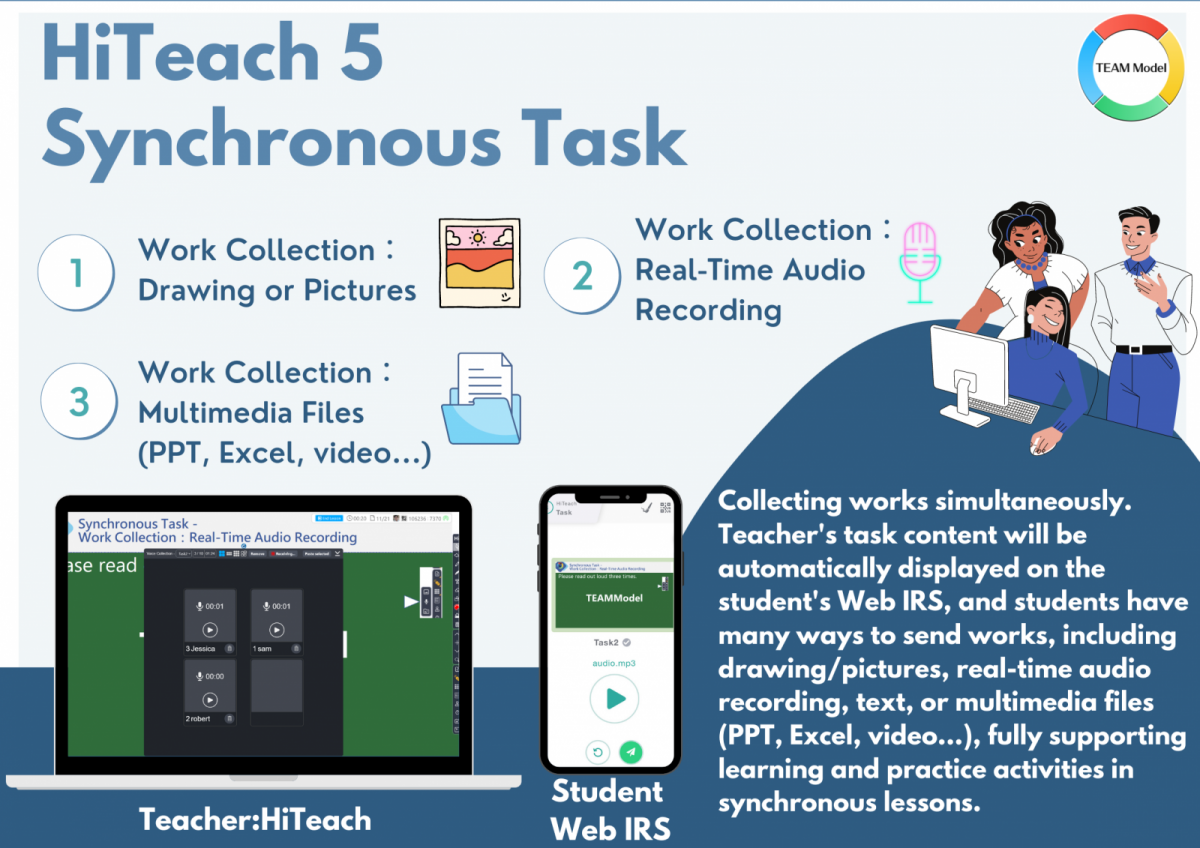 1. Work Collection: Drawing or Pictures
2. Work Collection: Real-Time Audio Recording
3. Work Collection: Multimedia Files (PPT, Excel, video...)
Effective analysis ⦁ Double the effect
Tests are great ways to summarize the learning results and to know the strengths and weaknesses. Before, paper tests are used mainly, but the process was complicated and time-consuming. Now, after teachers design test questions on IES Cloud, they can use them with HiTeach's SelfPace Test mode function, and students can answer through Web IRS. After the test, visual grade results will be displayed immediately, allowing teachers to do interactive reviews in real-time. Also, these data will be simultaneously uploaded to the cloud, which is extremely helpful for teachers to track student learning situations and for students to do remedial learning on their own.
Synchronous testing and quick automatic correction
When starting SelfPace Test mode, teachers will select an exam file and students can start answering the questions and control their own progress. During the process of answering, the progress of each student's answer will be displayed on the HiTeach. When the teacher ends the test, HiTeach will
automatically correct and calculate the score
of each question (including single answer, multiple answers, true-false, cloze, and question set questions) and the total scores, and immediately display the correct rate of each question, the student total score, the grade analysis graph, and the test data for each question required for interactive review.
Interactive Review: Enhanced absorption
After the test is finished, the test results are immediately displayed, including the correct percentage, distribution charts, and score tables, as well as an interactive page for each question, which includes the test question, answering data, pie charts, and bar charts. Teachers can browse through the statistics and test difficulty to select the questions needed to be reviewed and do interactive review by using functions like SMART Pick-out, Flip Cards, or do differentiated teaching by sending different materials to students based on their learning status. This is a very efficient way to review tests.
Display each student's score
Show the correct rate of each question. Green: 70% or more, yellow: 50% or more, and red: 50% or less.
Score Distribution and Key Concept Radar Graph
Learning status analysis ⦁ Teaching students according to their aptitude
HiTeach will automatically upload all test data to the Team Model Cloud after the tests are completed, and the assessment data support the
PLAYTOL Dynamic Assessment Analytics
(an optional feature of the Team Model Cloud), allowing teachers to access test question analysis, score analysis, diagnostic analysis, and remediation planning. Teachers can fully grasp the data and charts that are useful for understanding learning status analysis by each subject, all subjects, school year, and each test.
Synchronous Follow-up: In-depth understanding of the process behind the answer
Synchronous Follow-up
is an excellent tool for teachers to see more of their students' thought processes and to create a change in thinking. In HiTeach 5, by linking data and teaching,
Synchronous Interaction + Synchronous Task
, you can easily create a synchronous follow-up situation in the classroom. Using the single answer, multiple answers, true-false, and cloze question functions of Synchronous Interaction, all students' feedback data can be quickly collected, and then the teacher can use Synchronous Task to ask students to answer why, why not, or how they solved the problem based on the feedback data, providing synchronous feedback to the teacher's follow-up questions.
Extended application: Hybrid Learning (online+offline)
During the pandemic, Mobile Smarter Classroom solution is also very suitable for synchronous lessons (or online synchronous learning), which are teaching activities combined with a video conferencing environment. Whether it is synchronous lessons where all students are online, or a hybrid learning model where some students are in the classroom and some students are online, all can show the best teaching results.

Practical tools designed for teaching
Exclusively designed for teaching
Tools, determine effectiveness and efficiency
PPT application upgrade
Writing and marking are convenient
Teachers can import PowerPoint materials directly, and the PPT pages will automatically be turned into whiteboard pages while keeping objects editable. It supports the preservation of animation such as appear, fade, pulse, zoom... and other effects. Also, built-in writing tools with various colors and thick/thin strokes can be used to mark directly on any document or web page.
Cloud platform connection is on the go
With TEAM Model Cloud – IES 5 Smarter Teaching Service, teachers can prepare lessons on the cloud by uploading teaching materials such as HTEX, PPTX, supplementary materials, videos, and web hyperlinks; when teaching in a smarter classroom, the teaching materials will be displayed in the auxiliary panel of the HiTeach for teachers to use them instantly.
Teaching aids and functions are beyond expectations
Various built-in teaching aids, such as geometric tools, scoreboard, measuring instruments, square screen curtain, spotlight, and labeling functions. They can be used according to different teaching content, and are a necessary aid to help multimedia teaching.
Create a highly interactive and lively smarter classroom
By installing HiTA 5 TEAM Model Teacher APP on smartphones, it can connect with HiTeach and transform into a remote control. It can use functions such as switching PowerPoint or HiTeach pages, pick out students wirelessly, scoreboard, timer, and more. Teachers don't have to be tied in front of the computer, making teaching vivid, free, and comprehensively flip!
Built-in picture gallery for enriched teaching
HiTeach has a rich library of built-in image materials, such as pentatonic, ball court, grid, and other backgrounds; music symbols, traffic signs, and other materials. In addition, you can also search for related images from the cloud (e.g., Wikipedia, Pixabay) by entering keywords directly and insert them right away into HiTeach to use.
Add points for promoting learning atmosphere加分表揚 帶動學習氣氛加分表揚 帶動學習氣氛
The built-in scoreboard function allows you to choose different icons to add points to groups. It is an excellent aid for TBL (team-based learning) to enhance group dynamics and increase the lively atmosphere of group discussions, student-student interactions, and teacher-student interactions to drive the learning atmosphere.
Pick-out: Care for each student
With the pick function in the classroom, the system can randomly pick students according to the name list. Therefore, students can focus in class, and teachers don't have to worry about fairness in the classroom and care for each student.
For more teaching features please refer to HiTeach 5 (pro. authorization)

The overall benefits of Mobile Smarter Classroom
The new Web IRS 5, combined with TEAM Model's sophisticated smarter teaching tools, including "content", "interaction", "task", and "test", can help students stay focused and motivate active learning. Whether it is
on-site (physical classrooms), online virtual classrooms, and online + on-site hybrid classrooms
, Mobile Smarter Classroom can handle it with ease. It can be described as the best smart classroom solution in this pandemic era.
The main effects on students are as follows:
Promote students' motivation to actively participate: Provide immediate graphical feedback to enable students to respond to problems and further strengthen students' motivation to actively participate in discussions.
Encourage students to focus and devote themselves to the learning content: Students must respond to the teacher's questions, prompt students to think about the problem, and interact through option/text/image/audio/file and other mechanisms.
Assist students with deeper conceptual understanding: Students must further explain the reason behind their answer, so this can encourage students to explore their inner thinking.
Student performance and diagnosis: After the test, students can immediately view their results, and with interactive reviews, learning is more focused and absorption is higher.
For teachers, it helps mainly in the following ways:
Assist teachers in diagnosing learning status and provide decision-making references: The system can collect students' answers and assist teachers in finding students' learning problems from the answers immediately. It fully assists teachers in assessing the situation, effectively clarifies misconceptions, and inspires follow-up discussions
Improve the interaction mode between teachers and students: Assist teachers in effectively mastering the fairness in interaction, so that all students have equal opportunities for learning and expression.
Improve the fluency of teaching: The system encourages students to focus on the key points of learning, saving teaching time, and making classroom context interesting without losing control.
Convenient for teachers to use: The system is simple to operate, so that teachers can focus on teaching, and teaching thoughts are not easily interfered by technological tools.
Increase the diversity of teaching and focus on every child: Teachers can design questions to allow students to feedback and interact through option/text/image/audio/file and other mechanisms to increase the diversity and richness of teaching. Every student must respond, achieving paying attention to each child.
Students think fully and grades improve by 5-10 points
West Virginia University in the United States used IRS to conduct a two-year teaching research in the courses of the medical school, and found that IRS can significantly improve students' academic performance (about
an average improvement of 5-10 points
). An experimental study on elementary science teaching at the National Central University in Taiwan also showed that the average performance of students in the IRS class was also better than that of the control group (about 7 points). It was also found that the standard deviation of the experimental group's performance was significantly smaller than that of the control group's students. (It means that there are more students in the control group with low learning effectiveness).
Video
Web IRS introduction
Take a quick look at how Web IRS transforms regular classrooms into smarter classrooms with this video! With Web IRS, there is no need to install any app on smartphones/tablets/computers! As long as there is a browser, interactive feedback, send pictures, text, quick answer statistics, annotations, etc., can all be done regardless of the limitation of distance. Each student can immediately express their views and ideas, so that teachers can track student thinking and do data decision-making.
Further Reading
TBSL is a team-based learning (TBL) that makes good use of data channels for teachers and students' smart terminals. It also makes good use of data channels with one-to-one (mobile learning devices, IRS, student-tablet) learning methods, integrating group learning (TBL) and self-learning (One-to-one) advantage, seamless connection of educational information learning methods before, during, and after class. Using data channels, using artificial intelligence to collect and analyze teaching data, smart decision-making makes the lesson more effective and smarter.
Successful Case
Bayorbor School in Philippines for giving a five-star rating to the use of HiTeach 5!
Since the outbreak of COVID-19, HiTeach has become the best assistant for remote interactive teaching by teachers in the Philippines. In 2021, with the launch of HiTeach 5, it also began to enter the practical application of the entire TEAM Model 5 generation, and received a super five-star rating.
Smarter Lessons, Cross-Strait Learning Together
Students from Beixin Elementary School in Xindian District, New Taipei City and Peixin Elementary School in Dongcheng District, Beijing once again gathered in the clouds. This class is taught by teacher David Hsu from Beixin Elementary School. Teacher Hsu leads the children to discuss the Beixin snack "scallion pancakes", and guides the children from the two schools to explore the mysteries of mathematics through life situations. Teacher Hsu uses the HiTeach 5 smart teaching system as a teaching aid. With the support of technology, even though they are thousands of miles apart, the children on both sides are on the scene, whether it is lesson interaction with audio and video, exchanges under group cooperation, and observation of students' works. No obstacles! This class reflects the deep integration of technology and the lesson, and technology makes classroom teaching more efficient and accurate.。
Taiwan North, Central and South 16 schools, 6 local + remote synchronous lessons
The Education Bureau of Taipei City Government held a new book release conference on "Competence-oriented Multi-assessment" at Xinhu Elementary School, and connected 16 schools and 20 classes across Taiwan (North, Middle, and South) in six branch venues. With 6 on-site + online hybrid learning model, multiple assessment courses, more than 600 teachers and students participate in the online interactive virtual classroom simultaneously. In addition to video interaction, mobile devices must be used to complete the multiple assessment tasks pushed by the teacher in real time.
Where can I refer to actual teaching cases?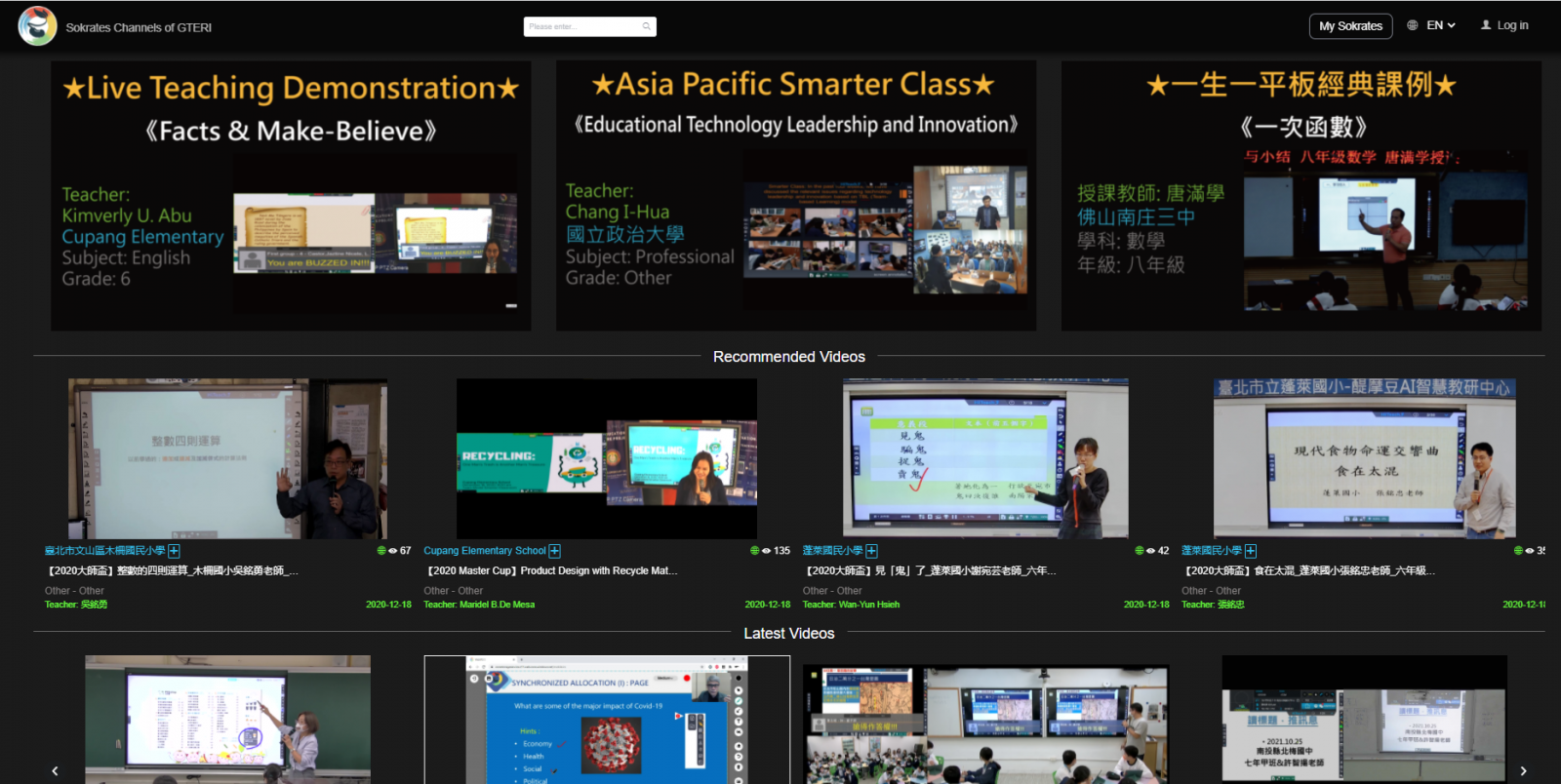 Sokrates platform has many lessons ex.
HiTeach can play a lot of supporting roles in the classroom. With student feedback devices and group devices for group cooperative learning, it can be combined into a diversified smart classroom solution. As for how to apply it to your own teaching? It may be the most effective way to see the best and to refer to the application methods of other teachers. The Sokrates platform gathers teaching examples that are enthusiastically open and shared by teachers from all over the world, including videos, application feature marks, and even teaching plans, covering various subjects and different academic systems. You can filter the movie lesson examples that suit you for your reference, and then integrate it into your own innovative teaching, and you can definitely increase your digital application skills in the shortest period of time!
Go to watch
Purchase & Set Up Information
Procurement scenario description:
Example: To set up
a class with 30 students
and
each student's device (Tablets/smartphones/PCs) has Web IRS access that can interact with HiTeach, you need to purchase
1
set of HiTeach 5 professional version authorization and
30
Web IRS connection authorization.
**Based on the authorized student connection number, HiTeach serial number license or account license will be provided (please refer to:
The difference between HiTeach 5 serial number license and account license, and how to check the content of license?
)*
| | | |
| --- | --- | --- |
| Item Name | Quantity | MSRP |
| HiTeach Mobile Smarter Classroom 30 Clients Pack (1Y) | 1 | USD$268 |
| HiTeach Mobile Smarter Classroom 30 Clients Pack | 1 | USD$1,860 |
| HiTeach pack additional purchase Smart Rating Module(1Y) | 1 | USD$10 |
| HiTeach pack additional purchase Smart Rating Module | 1 | USD$101 |
If there are additional devices (touchscreen, tablet, etc.) for groups in the classroom, additional group connection authorization can be added. For example, if there are 6 group touchscreens,
6
HiGroup connection authorization for touchscreens can be purchased.
Item Name
Quantity
MSRP
HiTeach Mobile Smarter Classroom 30 Clients Pack (1Y)
(Including 6 group authorization)
1
USD$333
HiTeach Mobile Smarter Classroom 30 Clients Pack
(Including 6 group authorization)
1
USD$2,256
HiTeach pack additional purchase Smart Rating Module(1Y)
1
USD$10
HiTeach pack additional purchase Smart Rating Module
1
USD$101
*After purchasing, the following items can be used for more applications for free: HiTA Teacher app, IES Smarter Teaching Service (Personal), and AClass ONE Learning Companion (For IES Personal courses).
Overall Environment of HiTeach Mobile Smarter Classroom/Student-Tablet Smarter Classroom
For Teacher
• Install on computer: HiTeach 5 (pro. authorization)
• Install on smartphone: HiTA 5 TEAM Model Teacher APP
• Cloud Service: IES 5 Smarter Teaching Service
For Students
• Tablets, laptops, smartphones, etc.: Use a browser to access Web IRS 5 to connect and interact with HiTeach.

Web IRS 5 connection authorization is purchased according to the number of students
• AClass ONE Learning Companion (For students to use before and after class)
• Do online learning, homework, assessments, surveys, and polls.
Wireless Network Environment
The classroom needs to be equipped with an environment that can be connected to the Internet, usually with a wireless AP that is sufficient for all students to use mobile devices to connect to the Internet.
Touch Device
It is recommended to install a touch device (such as Haboard IWB (101 inches)) for teachers to operate intuitively, and use HiTeach 5's powerful IWB tools to operate/write/mark with their hands.