Syllabus Catalog: Structured Chapter Arrangement
Easy access to online resources
Lesson preparation is one of the main parts of every teacher's daily work. If lesson planning resources can be cloud-based, teachers can unify teaching materials and test/exam papers in a structured and systematic way, which will make them more convenient to access and use.

IES provides "Personal Syllabus", which helps school teachers to prepare lessons in the cloud and arrange teaching materials (PowerPoint, HTEX, PDF, images, videos, web hyperlinks, etc.) and test papers (questions) into the syllabus. The teacher's prepared syllabus can also be shared with other teachers to share their resources.

In addition, when using HiTeach for smarter teaching in the classroom, HiTeach's Teaching Resource Area displays the syllabus resources from the IES 5 platform, with a tree-like display of Personal Syllabus. The teaching materials can be saved, imported, opened, or tested according to the teaching scenario, making it more convenient to access prepared materials.

►For a detailed description of the syllabus catalog, please refer to: A structured syllabus catalog, a more efficient co-preparation platform, and more convenient access to teaching materials and test papers!
After preparing resources on IES, teachers can easily access them on HiTeach
Multi-media material storage
Online resource library for on-the-go use
The teaching materials, files, multimedia resources, and more that are created on the IES can all be accessed at any time. When using HiTeach, even if you are in a different classroom or using a different computer, you can access all the data on the cloud and teach at any time by logging in to your own TEAM Model account, making it much more convenient.
Individuals can store teaching materials (HTEX files, PPT files), pictures, audio, video, PDF, WORD, EXCEL... etc. If the school has purchased the school-level IES management service, teachers can further use the abundant teaching resources shared by the school.
Multi-media test questions
Diverse question types & MS Word import function

MS Word can be used to import test questions and create test papers
With IES 5 question bank management function, teachers can quickly upload the most commonly used MS Word test papers and turn them into cloud-based test questions and papers. It also provides the function of setting the attributes of the test questions (e.g. question type, difficulty, cognitive level, etc.) and adding remediation resources for students to review for self-study.

In addition, the platform provides a variety of ways to quickly design test papers, such as SMART test paper design and manual test paper design. The more questions you accumulate over time, the more resources you will have to produce test papers.

●Whether you are accustomed to using cloud-based test questions, paper-based test papers, or CD-ROMs, all types of question databases can be imported and designed into the IES cloud as question banks, and question resources can be shared among each other.
●True-false, multiple choice, cloze, writing (short answer and essay), and even calculation questions can all be integrated into a cloud-based test paper. The questions can also contain different materials such as pictures and multimedia. You can use it to test listening, essay writing, and mathematics calculations!
► If the school has purchased the IES Smarter School Management Service, teachers can also use the school question bank and school exam file!

Create Course and Student List
Activity Record: Easy for teachers to view and for students to review after class

Teachers can create courses on IES, and students can join the courses by scanning QR codes, using hyperlinks, or entering the course invitation code on
AClass ONE
. If a school purchases the
IES school management function
and helps teachers create lists of classes and corresponding courses in advance, it will be even more convenient for teachers to use it, as they can directly select the
School Course
and view the student list.
Teachers create their own personal courses or use school courses created by the school
With IES course lists, teachers and students can enjoy the added benefit of lesson records. For example, if a teacher uses
HiTeach
in class and selects an IES course, at the end of the class, the teacher can log in to IES to view the activity history data generated from the class, including e- notes, lesson activity records, assessment results...etc. Students can log in to AClass ONE to view not only the activity history data, but also personal notes taken by themselves when using Web IRS during the class.
Teachers can view lesson records and e-notes, download student work, and export data after class
After class, students can view teacher's e-notes, interaction records, and personal notes made by themselves.

In addition, teachers can also access information on previous homework, assessments, and lesson records of all courses at any time, which is very convenient.
Access to course homework, assessments, lesson records, and other information
View assessment data
Learning activities are fully mastered
Assessment / Homework / Poll / Survey


IES 5 has a complete and easy-to-use mechanism for creating learning activities, selecting test papers from the question banks, and start an assessment. Different assessment types can be selected for different usage scenarios.
Multivariate assessment type
OMR and Writing Assessment: Use test papers to give tests directly and pair up with an automated answer sheet scanning system to correct objective questions automatically while teachers correct subjective questions online. In the same way, grade reports are automatically generated.
Smarter Classroom Assessment: Selected classes to participate in Smarter Classroom Assessment will be notified during the smarter classroom session; use HiTeach Smarter Teaching System to allow students in using IRS feedback mechanism to conduct simultaneous student-led assessment activity. If the students use Web IRS, the question types can cover cloze, writing (short answer and essay), and calculation. Students can also participate in the assessment online.
Online Assessment: Students can use the AClass ONE Learning Companion on the TEAM Model Cloud to take online asynchronous tests. Any device with access to a web browser through Internet can be used, allowing students to complete the tests within a limited time frame.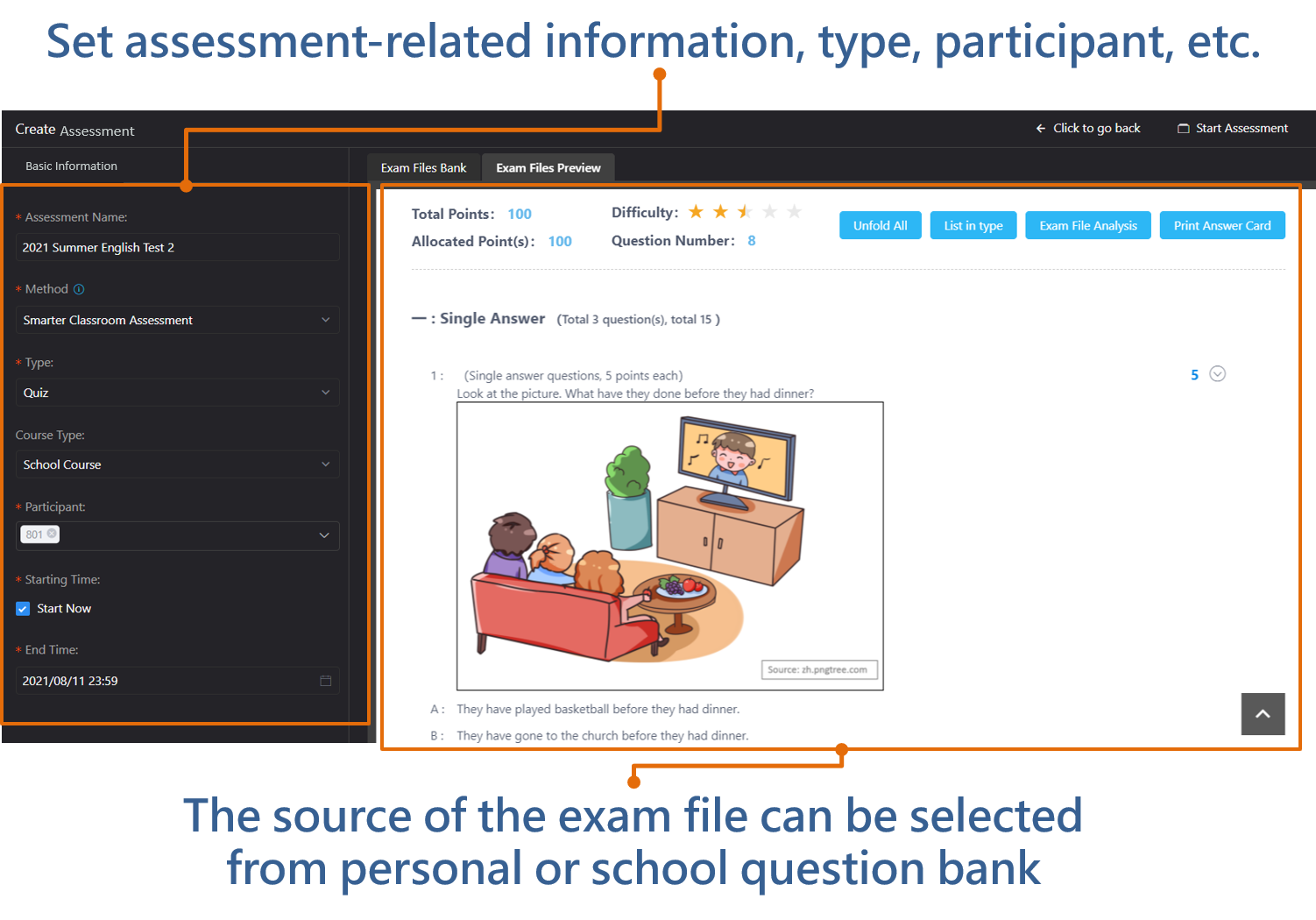 With the smart grouping function, assessment is so easy and simple
Digitalization of homework ⦁ Online reviewing
The most convenient way to hybrid teaching
● Can be applied to class or cross-class homework
● Teachers can enter homework descriptions and can add customized multimedia (file, video, picture, audio, etc.)
● Set allow supplement homework, open student mutual evaluation, must upload a homework file .... etc.
Manage all classroom events
Full-featured polling activities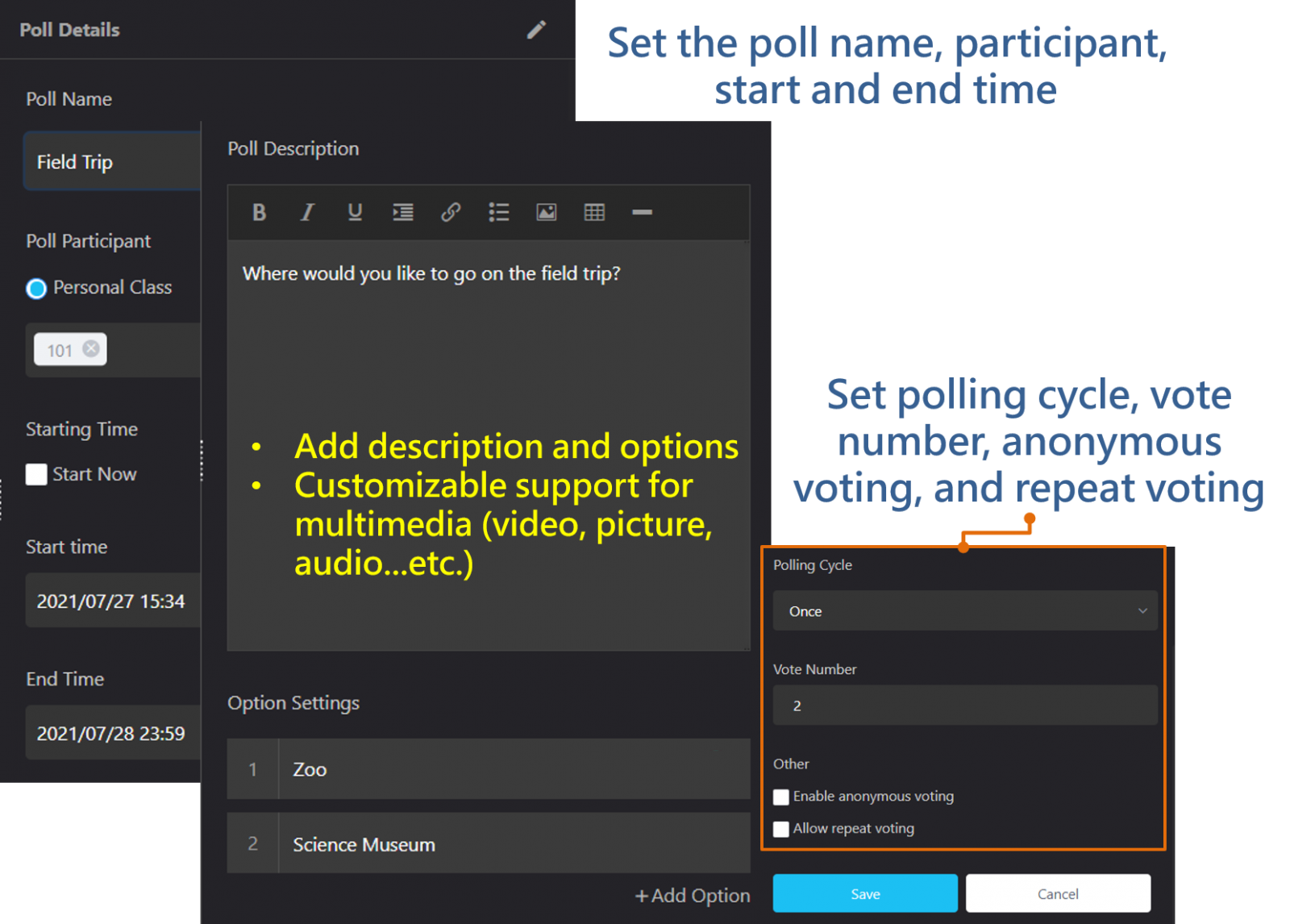 ● Can be used for classroom or cross-class voting
● Teachers can enter poll descriptions and options, and can add pictures
● Set polling cycle, the number of votes, anonymity, repeat voting .... etc.

Surveys are a breeze
Teachers can add a survey
● Can be used for classroom or cross-class survey
● Can enter descriptions and options, and can add pictures
If a school has IES Smarter School Management Service,
cross-class assessment/poll/survey can be supported for each learning activity

►If you register a TEAM Model account, you will get 1G of personal Data Storage Service space for free, come and experience the IES 5 Smarter Teaching Service now:
You can register & login to complete your profile.
In addition, you can download HiTeach 928 for free and use it for highly interactive collaborative-learning teaching. We welcome you to use.