Smarter school plain graphOn the plain graph of the school classroom, the location and use status of the smarter classroom will be displayed in real time, including the ongoing classroom, system failure, and the number of classrooms to be updated. The plain graph will also show the use heat of the classroom for administrative personnel to manage.
Classroom and classroom usage statisticsShow the stat-ups of all the HiTeach in the school, the number of ongoing smarter classrooms as well as number of participants of the class, etc. In terms of quantity trend, it will show the change in the number of classes ongoing per hour and the number of HiTeach start-ups/classroom ongoing in different grades on that day.
Classroom type statisticsThis chart will show the distribution of the version of the teaching system and the version of the operating system in all the smarter classrooms in the school, as well as the classification of how each smarter classroom uses the teaching system, such as loading briefing, using written question and answer mode, etc.
---

Smarter Classroom Dashboard
Overview of the Dynamics of TEAM Model Cloud Service/Resources/Activities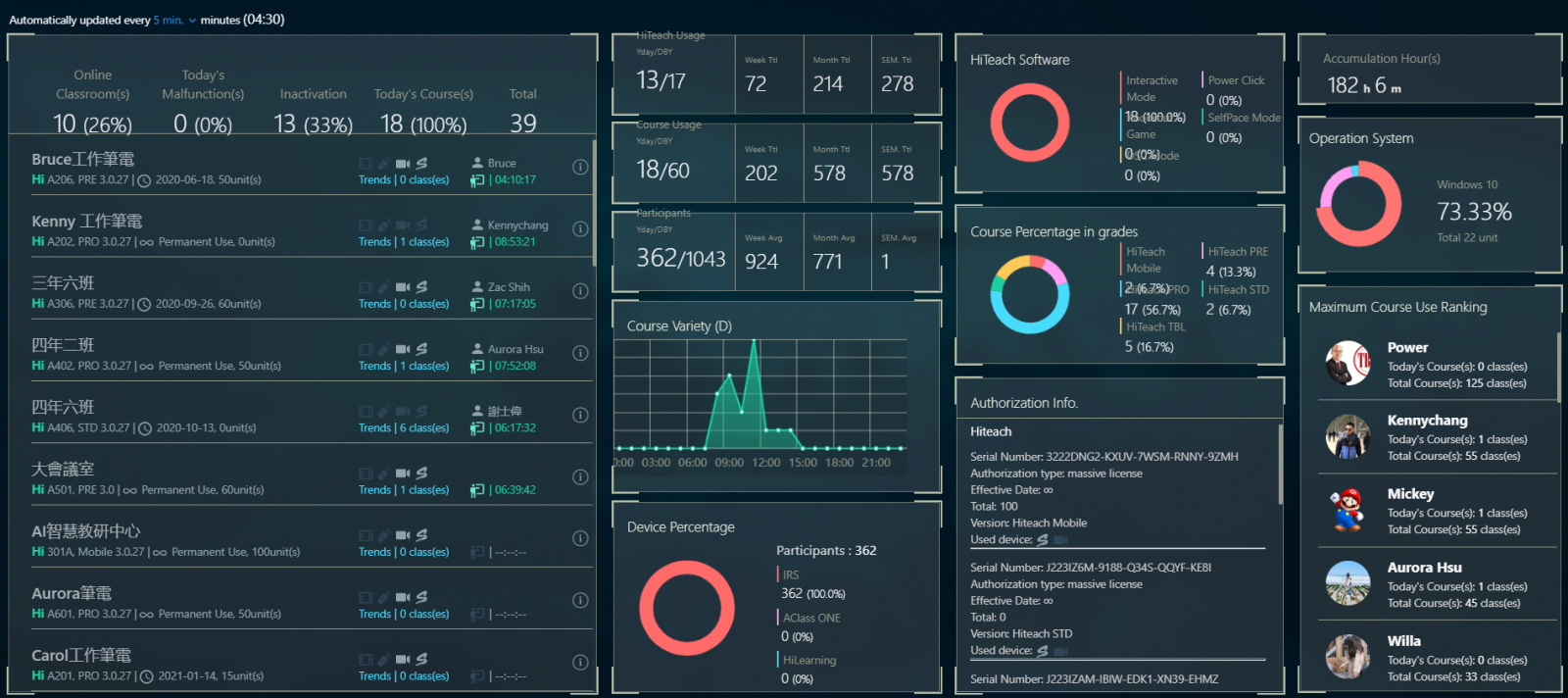 Account activation numberIt shows the total number of teachers and students in the TEAM Model AI smarter school who login to the TEAM Model smarter classroom and TEAM Model Cloud Service, as well as the daily account number change.
Classroom type distribution In the classes offered in the whole school, the distribution ratio of classes of different classes and disciplines is shown by two-level classification, as categorized such as language, arts and abilities; disciplines such as mathematics, biology, etc..
Learning process and resource outputCount the number of learning processes and resource output related to the smarter classrooms, and compare the number differences among different grades, for example, uploading e-notes, assessment notes, the number of online quizzes, or shared textbooks and assessment questions among teachers.
Learning activity analysisTEAM Model Cloud online learning activity analysis, including the number of various learning activities, the status (not activated, enabled, completed), and the completion rate analysis.
Classroom and resource analysisAnalyze the changing trend of classroom quantity, learning process and resource output according to the date and the stack chart.