AI Smarter School and Smarter Post-Lesson Discussion
2019 Global Technology Leadership and Instructional Technology Summit Came to a Successful Conclusion
2019 "The 8th Global Technology Leadership & Instructional Technology Summit and Cross-Strait Education Competitiveness Forum" hosted by TTLITDA and the Global TEAM Model Education Research Institute was held at Sunworld Dynasty Hotel Taipei on November 8. This year's theme is "AI Smarter School and Smarter Post-Lesson Discussion". The participants are far from Jordan, Bulgaria, Thailand, Hong Kong, Malaysia, Singapore, China...and more than 200 principals, leaders and experts. Keynote speeches, workshop exchanges and dialogues to discuss the development of smart education.
Group photo with VIP
Global Trends: i-VISA - Linking World Smarter Classroom
Professor I-Hua Chang, TTLITDA Chairman
The forum invited more than 10 speakers at home and abroad. TTLITDA Zhang Yihua issued the i-VISA model to promote the outstanding contributions of technology leaders. At this summit forum, he brought 200 VIPs on site and connected and interacted with smart classrooms around the world, such as Thailand, India, Singapore, etc., to showcase the technology in teaching and learning.
Education Policy: Education Big Data Leads the Future of Education (Adaptive Learning)
Bor-Chen Kuo, Director, Information and Technology Education Department, Ministry of Education
AI can also assist modern teachers to teach students in accordance with their aptitudes. Director of the Department of Information and Technology Education of the Ministry of Education, Mr. Bor-Chen Kuo, gave a speech on the education of Big Data, and explored the relationship between technology and teaching, making good use of technology, using local and learning. There is a high degree of positive correlation, and technology-assisted teachers can not only teach students in accordance with their aptitude, but also test them according to their aptitude. I hope that students can break through the geographical restrictions and learn independently at any time and anywhere, which can break the geographical and urban-rural resource gap.
Data Analysis: Lesson with Heterogeneous Pedagogy, Data Decision and AI Smarter Post-lesson Discussion
2019 Global TEAM Model Smarter Lecture Contest Data Analysis Report
Power Wu, Dean of Global TEAM Model Education Research Institute
Power Wu, Dean of Global TEAM Model Education Research Institute, used the Global TEAM Model Lucture Contest data report held on the previous day of the forum to analyze the extensive use of AI artificial intelligence in teaching. In the AI ​​era, how to use data decision-making, AI wisdom teaching and research and other new models to help teachers professional development, promote the deep integration of teaching and learning, let Power tell you!
2019 ICF Smart City First Prize: Smart Education in Taoyuan
Anbang Gao Director of Education Bureau of Taoyuan City
The final finale was delivered by the Director of the Taoyuan City Education Bureau, Gao Anbang. Taoyuan City has built more than 3,500 smart classrooms in the past few years. The successful push behind it is the vision and efforts of the Taoyuan City Education Bureau. How does education grow in Taoyuan, how to promote smart classrooms and teacher communities in Taoyuan, and successfully win Taoyuan's first prize in ICF Smart City.
Global Experience: AI Smarter School's Teacher Professional Development Case Sharing
A Scope Study of TEAM Model Smart Classrooms in Islamic Educational College
Dana Abu Goura, Islamic Educational College,Jordan (IEC)
Ms. Dana Abu Goura is acting as the Chief Executive of Islamic Educational College which was founded by the Islamic Cultural Society. By taking on this important position comes great responsibilities, and she is always thinking about how to provide children with better education quality. That is why when she understood the benefits that a smart classroom can bring to the children, she immediately became fully committed to the introduction of smart classrooms. She not only led the school's professional administrative team to plan and practice high-quality operating models, but also acted as a strong backup force for the students and teachers of smart classrooms. She also exerted personal influence to change traditional teaching methods and the promotion of smart classroom through events such as participation in training, seminars and exhibitions. Up to now, the school has successfully built smart classrooms on the British and American Program campuses, and is committed to complete the setup of smart classrooms throughout the entire school within three years, thus to turn Islamic Educational College into a model of smart education in the region.
"Weaving new educational dreams with big data"
Director Zhou Fangming, Chengdu ELDU Wisteria Primary School
On-site connection, President Huang Minli of Wisteria Elementary School
"Team Taoyuan - Create a sparkling star of Smarter Teacher"
Principal Feng Lizhen , Hsih-Shin Elementary School
With students as the main focal subject of the school, develop adaptive education to inspire children's potentials. Having teachers as the teaching foundation, design multidimensional curriculum to enhance learning outcomes. Establish an enthusiastic administrative team to fully support teaching. Having parents as partners, cultivate good public relationship and establish into a community school. Create a high-quality campus environment that is full of vitality, and humanity, global-minded and active.
AI Smarter School Principal Forum
"AI Smarter School in Penglai"
Principal Shang Handing ,Penglai Elementary School
Although Taipei Municipal Peng-Lai Elementary School is a centennial school, it has introduced teaching technologies continuously. In addition to being the first School of the Future MCloud in the world to be certified by Microsoft Corporation, it took the lead in introducing the "Clicker" (i.e. the interactive response system, IRS) in 2005. Up until now, it has been a school in which all the classes are smarter classrooms. Besides being an exemplary school of the innovative teaching of the Department of Education, Peng-Lai has been awarded as an outstanding school with teaching and innovative experiments in Taipei City. It has substantial experience in smarter teaching as well as the soft power in smarter interaction models.
AI Smarter School in YungWing
Principal Chen Yu Yung wing School, ZHUHAI
Since commencing work in 1994, she has served as a team counselor for the Shiiazhuang Caochang Street Elementary School in Hebei Province, Principal of Shijiazhuang Foreign Language Primary School in Hebei Province, and Principal of Yung Wing Elementary School in Zhuhai. She is committed in cultivating students' lifelong habits and abilities that will benefit their lives. She firmly believes that one should "never underestimate the ability of the students" and has led the teachers to devote themselves to the reform of education and teaching, and winning First Prize in the Innovative Education Teaching Achievements held in Hebei Province. Her life motto has always been "the essence of education is to influence the soul with soul, and to enlighten wisdom with wisdom." She has portrayed through her actions the dreams and values of an educator: that education is harvested by giving, and life becomes beautiful by persistence!
A Giant Butterfly: The Successful TEAM Model Smarter Campuses at Islamic Educational College
Model Smarter Campuses at Islamic Educational College"Dr. Lilin Huang
Professor Li-Ling Chen is currently the Principal of Chinese School in Jordan, Middle East, the Executive Director of the Amman Baccalaureate School Jordan, and the President of the Taiwan Chamber of Commerce in Jordan. She is committed in promoting the exchanges between Jordan and Taiwan through education, trade, economy and culture and has made outstanding contributions.

Since 2015, Professor Huang has assisted in the development of TEAM Model Education in Jordan, where she has continuing cooperation with schools such as Modern Systems School, Zarqa University, American University of Madaba, Islamic Educational College, New English School and others. They cooperated together to promote the development of smart education in the Middle East region. She had arranged several professional smart education consultants to conduct teacher training activities so that the local teachers can design their own smart classroom and teaching methods.
"ICT Journey Towards Smart Teaching & Learning"
Fuhua Primary School (Singapore) Ms. Cheryl Teo Siew Khim
2019 is the year for Fuhua to demonstrate the effectiveness of its smarter development. In addition to joining the TEAM Model AI Smarter School Alliance and building the Smarter Classroom Observation Lounge, Ms. Joyce Lian and Mrs. Angie Poh, directors at Fuhua, were granted the Special Prize at the 2019 Innovative Smarter Lecture Award. Moreover, Fuhua's team was the Champion in the Elementary Group and received the Special Prize in the Team Group. The team will assign representatives to compete in the 2019 Global TEAM Model Smarter Lecture Contest. As a rising star, Fuhua is developing quite rapidly, and its future development is worth looking forward to.
"AI Education in Junior Secondary"
Chen Yujian, Vice Chairman, STEM Education Committee, Yinghua College, Hong Kong
Teacher Chan has over 15 years of experience in teaching Information and Technology subject in Hong Kong. He studied computer engineering at university and completed a Master's degree in information technology education. He is currently the Deputy Convener of the STEM Education Committee at Ying Wa College and teaches information technology at the school too. During 2017~2019, he also served as a teacher at the Information Technology Education Centre of Excellence of the Hong Kong Education Bureau where he held a number of various types of teacher training for e-learning. There were also many training courses on the application of artificial intelligence to teaching. Teacher Chan has received various awards including the Best Teacher Award at the 2012 and 2015 Microsoft Valued Teacher, the 2016 Educator Exchange Class Hack Award and Silver at the 2017 Hong Kong University International Outstanding e-learning Awards.
Smarter Teacher Forum
"Smarter classroom: Team Taoyuan training process & Smarter school: Yong-sun Elementary School technology use teaching development"
Zeng Jingyi, teacher of Yong-sun Elementary School, Taoyuan​​​​​​​
She graduated from National Taipei University of Education with a Master's degree in Counseling and Psychological Guidance. With 14 years of teaching experience in elementary school, she was rewarded First Prize in the 2019 4th Cross-Strait Smart Class Invitational Tournament. She has focused her expertise on the study of integrative activity learning field, cross-disciplinary innovative teaching, and innovative school administrative management. Currently, she is acting as the director of counseling, where she is committed to educate the concept of love, and hopes that through the efforts exerted by the school, they will be able to let every child be recognized.
"The practice of literacy-oriented teaching in smarter classrooms"
Xu Jingyi, Affiliated Experimental Elementary School of University of Taipei​​​​​​​
Teacher Jing-Yi Hsu is devoted to the teaching research and development of the social studies subject. She is dedicated to the teachers' professional learning community operation, and leads the partners in their process of professional development. Teacher Jing-Yi believes that the focus of social studies should be on enabling the students to construct their own cognitive system through reflecting, linking and reorganizing the concepts they've been taught and to ultimately apply them in life. In the teaching practice of the smart classroom, it involves the development of a student-oriented teaching method, guiding the students to engage in a more in-depth interaction and discussion, and to further improve learning outcomes.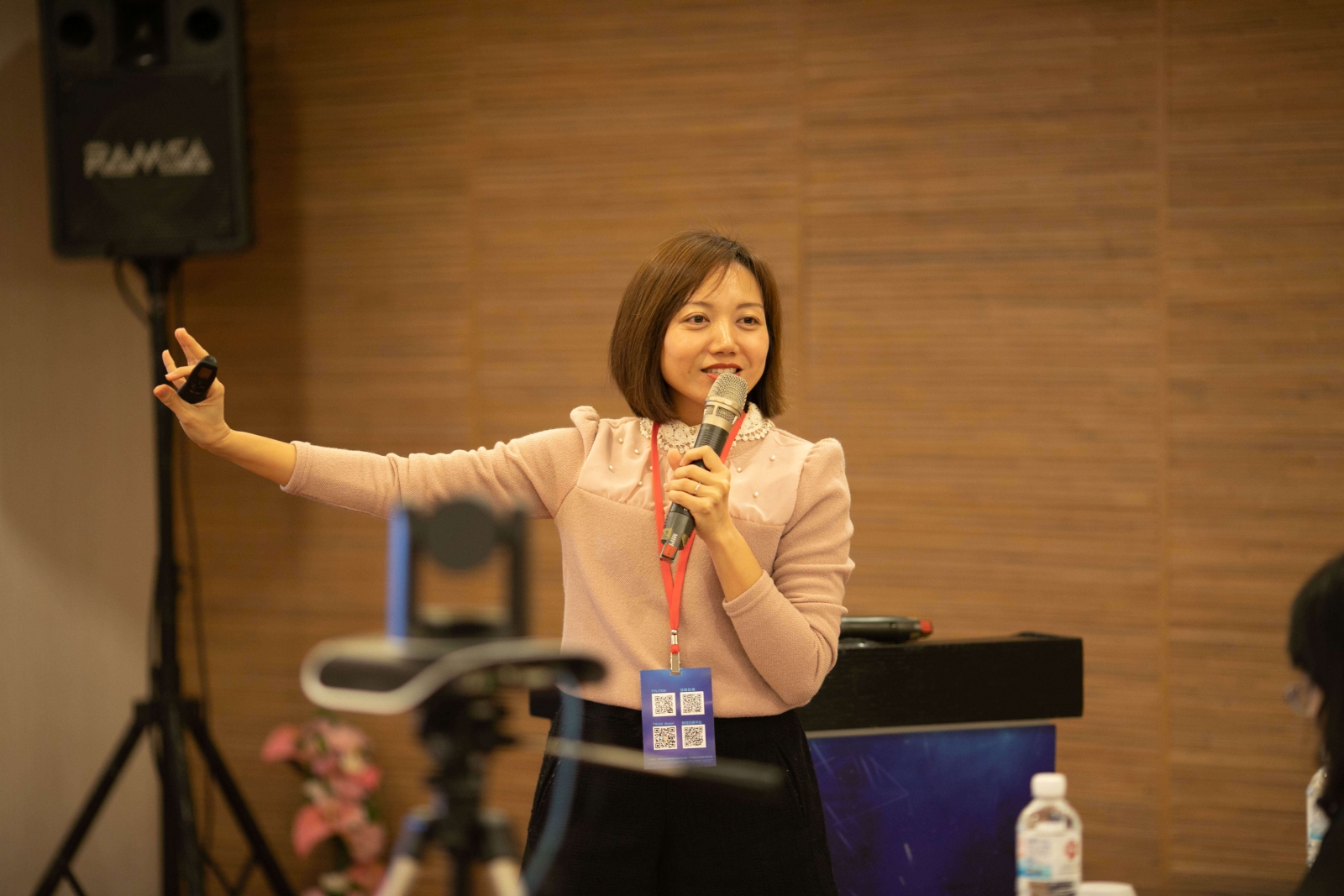 Smarter classroom experience sharing
Lin Yujun, teacher of Longtan Guozhong, Taoyuan City​​​​​​​
With nearly 20 years of experience in the teaching of mathematics, she makes good use of smart classrooms to improve teaching efficiency so that an enthusiastic and vigorous classroom learning can be carried out. In 2017, she won First Prize in the 2nd Cross-Strait Invitation Tournament for the e-learning Class. In 2019, she was selected by Parenting TW to be one of the 100 Education Innovators. Teacher Yu-Jun's enthusiasm for teaching has greatly touched the students, the parents, and also inspired her colleagues. Her willingness to work as a workshop lecturer at various schools and departments, giving guidance related to collaborative lesson study, and sharing her experiences with other teachers, has all further exuberated a positive energy towards educational innovations.
Download AClass ONE Mobile to get all the speaker information in the forum
code
T186399
Download AClass ONE Mobile to get all the speaker information in the forum,enter the codeT186399
(how to get?)