Recently we updated solution for online teaching during the pandemic (please refer to Learning Never Stop, Countering the Pandemic - Video-Conference System+AClass ONE+HiTeach)

This time we are going to further introduce how TEAM Model conducts an online interactive lesson, overcoming the lack of interaction in general online lessons, and achieving nearly the same teaching effectiveness between online face to face and offline face to face lessons. We introduce to you a lesson example from Hailun International Bilingual School, taught by Ms. Lee in a third-grade class. Ms. Lee used live-streaming to teach a face to face interactive lesson.




Support any video-conference system, just like having class in the same smarter classroom.


Students can use AClass ONE Mobile to send messages and pictures to the teacher, and answer IRS Questions. The teacher uses HiTeach Smarter Teaching System to present student's work and IRS statistics. Even at home, it is still a smarter classroom.


A powerful learning resource platform, conduct syllabus management, student's self-directed learning, E-Note, diagnosis, and remediation in one go.


Sokrates Video and Classroom Observation Report are generated right after the lesson, including AI analysis and expert marks, helping teachers advance in pedagogical review and achieve teacher professional development.
Sokrates Video
Classroom Observation Report
《Insect Memo》Ms. Lee- Primary School Grade 3 Language Class
Lesson Introduction: In this time of the pandemic, using TEAM Model self-directed learning platform, AClass ONE, and Ding Talk's video-conference system to combine online and offline teaching, realizing the idea of "learning never stops". This lesson mainly focuses on cultivating student's consciousness of self-directed learning and spontaneously exploring. Through praise encouragement, team-based learning (TBL) learning model, and student-centered teaching, guiding students to think and convey actively, enhancing student's consciousness of participation and cooperation.

Sokrates Video Link (recommend log in to Sokrates Channel with laptop/pc)
Highlight of Ms. Lee's lesson
Learning Task Sheet

Ms. Lee used TEAM Model cloud platform to provide students with learning tasks, allowing students to use AClass ONE to study by themselves. Also, with offline group learning activities, perfectly integrated offline and online, achieving online TBL (Team-based learning) model learning.

Ding Talk group

Ms. Lee divided the students into 4 groups with Ding Talk(by Alibaba Group), allowing them to discuss in the groups respectively. Students sent their works/pictures to Ms. Lee, and Ms. Lee displayed them on HiTeach for work comparison, letting student's discussion to be more focus and making it easier to exchange mutual thoughts.
Interactive Challenge

Ms. Lee used IRS Pop Quiz to let the students answer and immediately got the statistic data.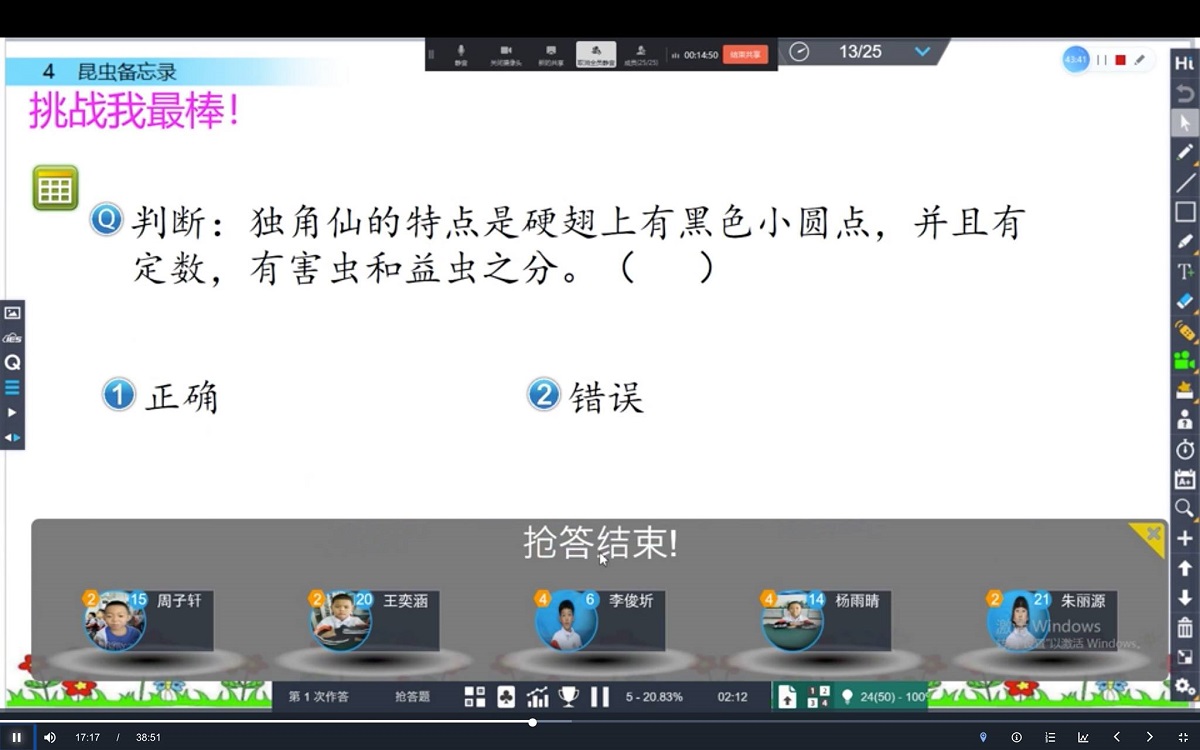 Countdown to Answer Answer Outcome

Ms. Lee used the timer to count down and let the fastest 5 students answer the question, creating an exciting atmosphere for the lesson and making the students more focused on the lesson activities.
HiMessage Discussion

Students used HiMessage to share their thoughts on the question.
Work Comparision

Ms. Lee had the students finished the learning sheet and let the students sent them back in the form of pictures. Ms. Lee then compared the works as a conclusion, letting the students actively participated and pondered, making it an excellent TBL lesson.




Ms. Lee's lesson adequately integrated online and offline teaching method. Even though the whole classroom was based on a video-conference system, TEAM Model helped it became a smarter classroom, achieving the learning environment and scenario of an actual classroom, making it a significant online smarter lesson. (Sokrates Video Link)