After many years of research and development
We finally welcome the solutions of TEAM Model 5!

In previous generations, HiTeach was only available in official sales versions.
With the birth of TEAM Model 5, we opened up our new friend for free: HiTeach 928!

This is a
public welfare free version
that expands support for teachers to help them better implement competence-oriented teaching.
928 is named after the anniversary of Confucius's birth
, who is considered the paragon of Chinese sages. His educational philosophy, to teach students according to their abilities and to teach without distinction, has lasted for thousands of years and is recognized worldwide. The development of the TEAM Model system fully echoes Confucius' ideology and makes good use of modern technology to effectively realize data decision making, differentiated teaching and learning, and continues to promote educational innovation. The HiTeach 928 is a tribute to this esteemed master and is available to teachers around the world. It can be used immediately for both distance learning and on-site teaching,
helping every teacher and every child
.

During the infancy of information technology in Taiwan more than 30 years ago, a group of teacher-training students devoted themselves to the field of software development and the development of educational technology, and thus started the development of the HABOOK Group. Since the first generation of IRS Smart Classroom was released in 1999, HABOOK has been growing for over 20 years. The founders, Prof. Power Wu, Dr. Steven Liang, and the entrepreneurial team have never forgotten their original vision, with three major visions of education technology as the HABOOK's long-term development policy: "to make active contributions to teaching and learning with technology", "to promote effective and efficient e-teaching models and strategies", and "to create unlimited possibilities in education".
HABOOK Development Milestones
With
over 20 years of experience in education technology research and development
, HABOOK developed the
HiTeach Smarter Teaching System
, and this core software is extended to the comprehensive ecosystem, TEAM Model Smarter Education, which includes
Teaching (T), assEssing (E), diAgnosing (A) and reMediation (M)
. From the standpoint of teachers, we help them to more easily implement educational concepts such as Team-Based Learning (TBL), Problem-Based Learning (PBL), and competence-oriented teaching, to create highly interactive smarter classrooms where technology is no longer cold, but a tool to ignite students' passion for learning.
With quite an honor, HiTeach has won many awards, including the Taiwan Excellence Award, COMPUTEX Best Choice Award and Jury's Special Award, and the SME Innovation Award. We continue to help teachers with innovative teaching in every corner of the world.
HiTeach is highly recognized
"Education requires the mobilization of the entire village." We are touched by the passionate people from all corners of the world who continue working to change education. For the past 20 years, TEAM Model had also supported many educational charitable activities, such as the Remote Language Teaching Hope Program, Smarter Education Movement, One Lesson in four places across the Strait, and the development of distance teaching communities in the Philippines under the COVID-19 pandemic, to help bridge the gap in educational resources within our capacity.
The more experience we have, the more we think about: how can TEAM Model expand to help more teachers and students? After all, education resources are limited. The best solution is through the Internet and software. Therefore, we have proposed internally to use
HiTeach 928
and the resources of
TEAM Model Cloud
, so that more teachers in need can get it for free and connect the classroom and the cloud, hoping to continue helping the global development of smart education innovation.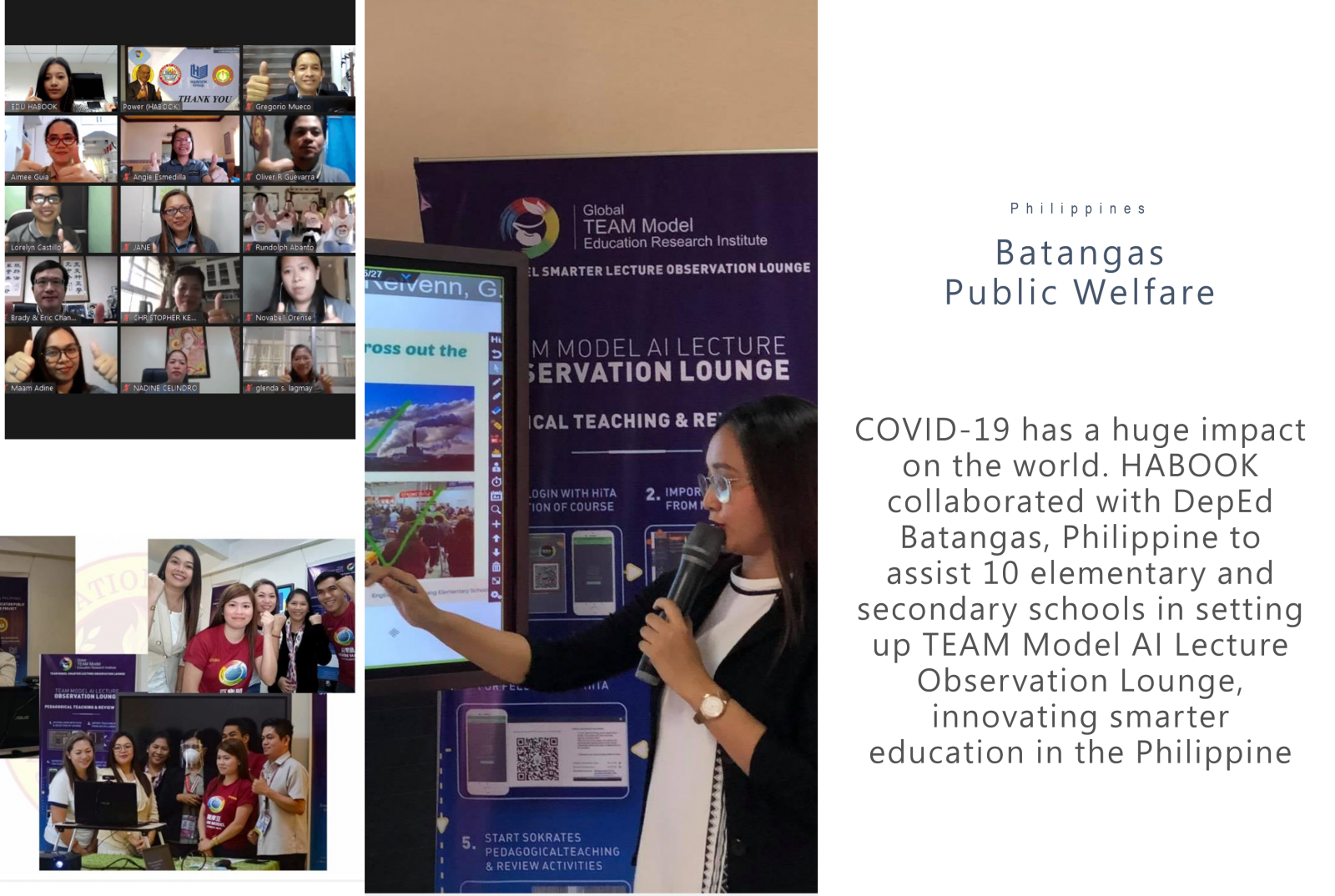 In addition, under the trend of competence-oriented teaching, the impact of teacher professional development is even more far-reaching. Only with teachers' continuous education, learning, and exchange can bring about a continuous cycle of innovation. Therefore, we established the Sokrates Channel to provide a free platform to exchange classical videos and lesson examples of smarter education globally, and all educators are welcome to participate in it at any time.
Sokrates Channel
was established by the
Global TEAM Model Education Research Institute
to bring together the world's most exciting and technology-based lesson videos. To date, over ten countries and regions, hundreds of schools, and tens of thousands of classical lesson videos have been accumulated, gathering classroom wisdom and development results of teacher professional development worldwide.
From the educational field, we believe HiTeach 928 can provide teachers with many teaching aids, such as a variety of different pens, erasers, and other basic whiteboard tools; screen annotation function that allows you to operate teaching resources or play videos while directly annotate and draw on them; pick-out, timer, spotlight/ square screen curtain, serial number stamp, etc. to enhance learning attention; scoreboard and the teacher's mobile app for uploading photos for discussion and help team-based learning. The cloud resource platform can integrate teaching materials, question banks, lesson notes, etc. into the cloud, making it easy for teachers to take resources with them.
Smarter education under the pandemic welcomes more changes and drives education to flourish
Educational change must begin in the teaching field.
By taking one small step, TEAM Model hopes to work with teachers to make small changes and create big benefits, achieve fulfillment for every child.
Notice:
•
HiTeach 928 is an educational charity authorization for HiTeach 5 and is used to promote smarter education for the public benefit provided by HABOOK Group. We welcome all teachers to download and use it.
•
This authorization cannot be resold, sold, pre-installed, or included in any system or product. Please contact HABOOK Group for authorized cooperation if you need it.
•
This authorization is for specific functions and uses. If you need more supported functions, please purchase HiTeach 5 professional version authorization and related modules.