New Taipei City promotes the digitization of public class observation, signed an MOU with the
Global TEAM Model Education Research Institute
(GTERI for short), introduced the software and hardware system of digital lessons observation and the global sharing platform
Sokrates Channel
, which will assist schools in teacher training, technical support, and teaching observation, etc. Mingwen Zhang, director of the Education Department, said that this mechanism will allow public lessons to leave records in digital forms such as text, pictures, or images, as he gave a lot of comments during lesson observation.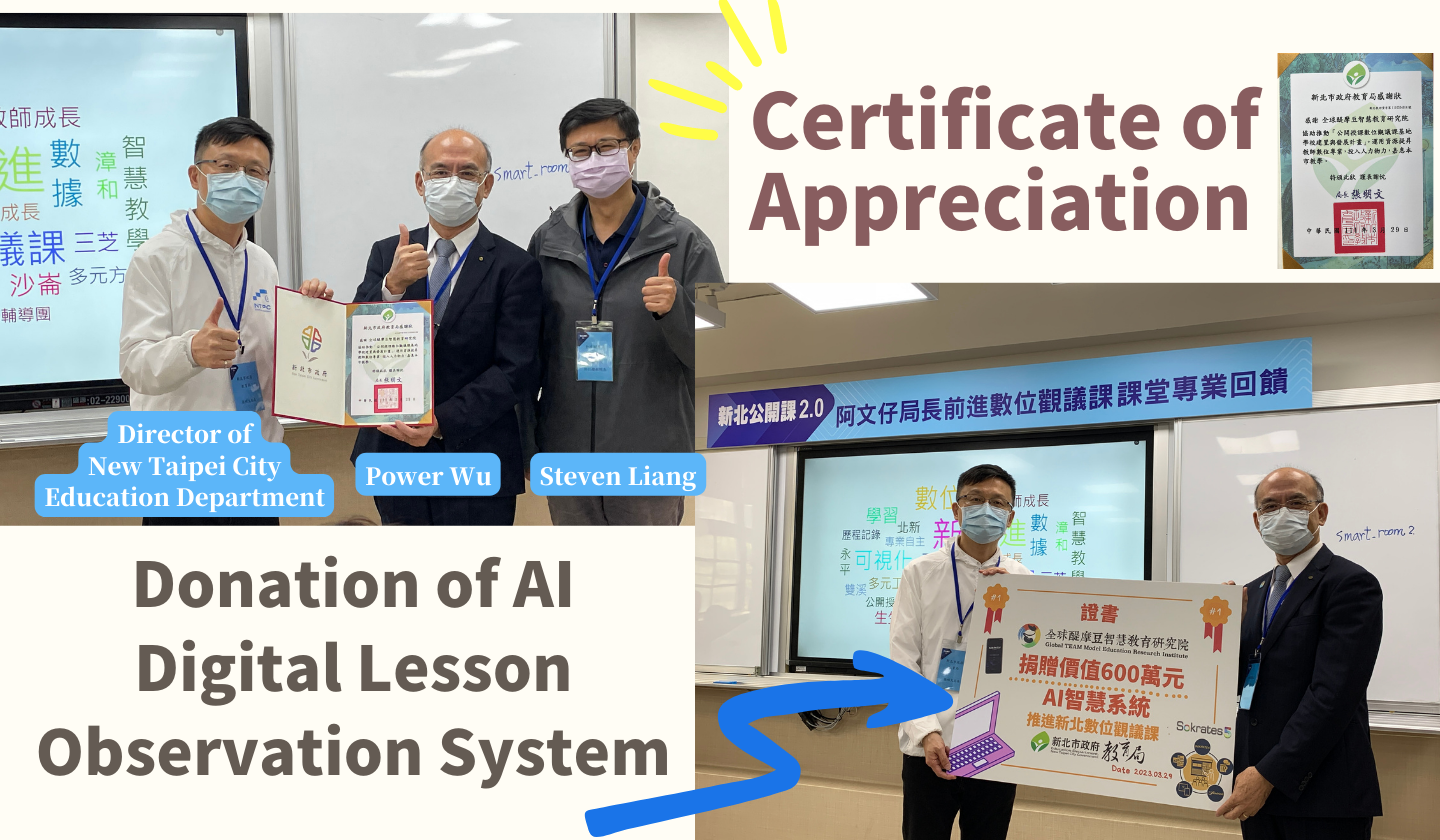 New Taipei City government signs MOU with GTERI to promote Digital Lesson Observation
In order to promote the digitization of lesson observation,
6 schools
were invited to serve as lead schools. HABOOK team assisted the schools in teacher training, technical support, and observation demonstration, including assisting lead schools to apply the Sokrates digital lesson observation system, developing the digital lesson observation model, and promoting the teacher professional development through public-private partnetship.
In the public lesson on March 29, Ms. Jane Hsiao-Ling Kan, a full-time counselor of the Elementary School Social Field of the National Education Guidance Group, led the sixth-grade students to look at the impact of the pandemic from all levels with "Life and Learning under the Pandemic". Through the
HiTeach Smarter Teaching System
, in a classroom environment where students have tablets, teachers can instantly communicate with students, such as image and text transmission, Buzz-in, Pop Quiz, etc., and use the generated statistical charts to help teachers make data decisions. Ms. Jane Hsiao-Ling Kan lets students see the changes in the world with the chart of confirmed cases, images of life before and after the pandemic, and the impact of various industries. The course also introduces the concept of the United Nations Sustainable Development Goals (SDGs), which look at how air quality has improved internationally due to factors such as a reduction in tourists.
Director Mingwen Zhang, lesson observation teachers, and 6 lead schools jointly use the Sokrates system to conduct digital lesson observation, and provide professional feedback in real-time through the
Sokrates Lecture Observation app
, so that public lessons can be digitally recorded in text, pictures, audio, or video. Records can be recorded in a modernized way, as
Sokrates videos
and
Lesson Observation Form
reports can be generated immediately after lessons and be used to promote teacher professional development.
New Taipei City Beixin Elementary School, Mr. Dawei Xu, led the on-site lesson observation
The participating lead schools and members of the guidance group have left more than 100 professional feedback records on their mobile devices. Dawei Xu, a teacher from Beixin Elementary School in New Taipei City, has been using this lesson observation system for several years, and he believes that this system can really help teacher professional development. Ms. Sujun Xie gave a message in the digital observation form: "The teacher uses the data released by the pandemic center to draw materials from life to cultivate students' ability to read pictures." Ms. Ruiwen Liu believes that Ms. Xiaoling Jian allows students to use pictures to compare the impact of life is a great stimulus for helping students think.
The convener of the digital lesson observation lead school, Principal Huizhen Lin of Sha Lun Elementary School, led the on-site lesson observation
Principal Huizhen Lin, the convener of the digital lesson observation base school, said: "Science and technology are progressing rapidly, and teachers have to keep up with the pace of technology. For digital lesson observation, the use of tablets can give accurate feedback at the moment of teaching. Teachers can also refine and innovate through lesson video playback to enhance their professional skills more deeply and extensively."
Mingwen Zhang, Director of Education Department of New Taipei City, said: Let the public lesson be recorded in digital methods such as text accumulation, pictures, or images. He also left a lot of comments during the lesson observation process.